TV's can be installed over a fireplace to drop down to a optimal viewing angle.
Example Install
Shown above is a TV Art Cover by Frame My TV combined with a Transcend Pro lift by Nexus 21 (See detailed video on this mount below). Also in this video the client wanted to have an external Sonos Playbar or the compact Sonos Beam mounted below the TV behind the art. This article will better explain how we accommodate external speaker bars.
(THIS PRODUCT LINE HAS BEEN DISCONTINUED, ARTICLES ARE ONLY FOR REFERENCE FOR PAST CLIENTS)
Checkout our latest offerings of Deco TV Frames exclusively made for Samsung The Frame
PLEASE NOTE:
While we do not sell wall mounts, we can provide you with the necessary hardware to make your TV frame compatible with a drop-down style wall mount. You can purchase the wall mounts from Amazon or other authorized resellers.
For the hardware for us to make the frame properly attached to a TV using a drop-down style lift, you'll need to choose our Bracket Adapter Plate Hardware. Below is an example video to show you the general concept of the Bracket Adapter Plate

How This is Accomplished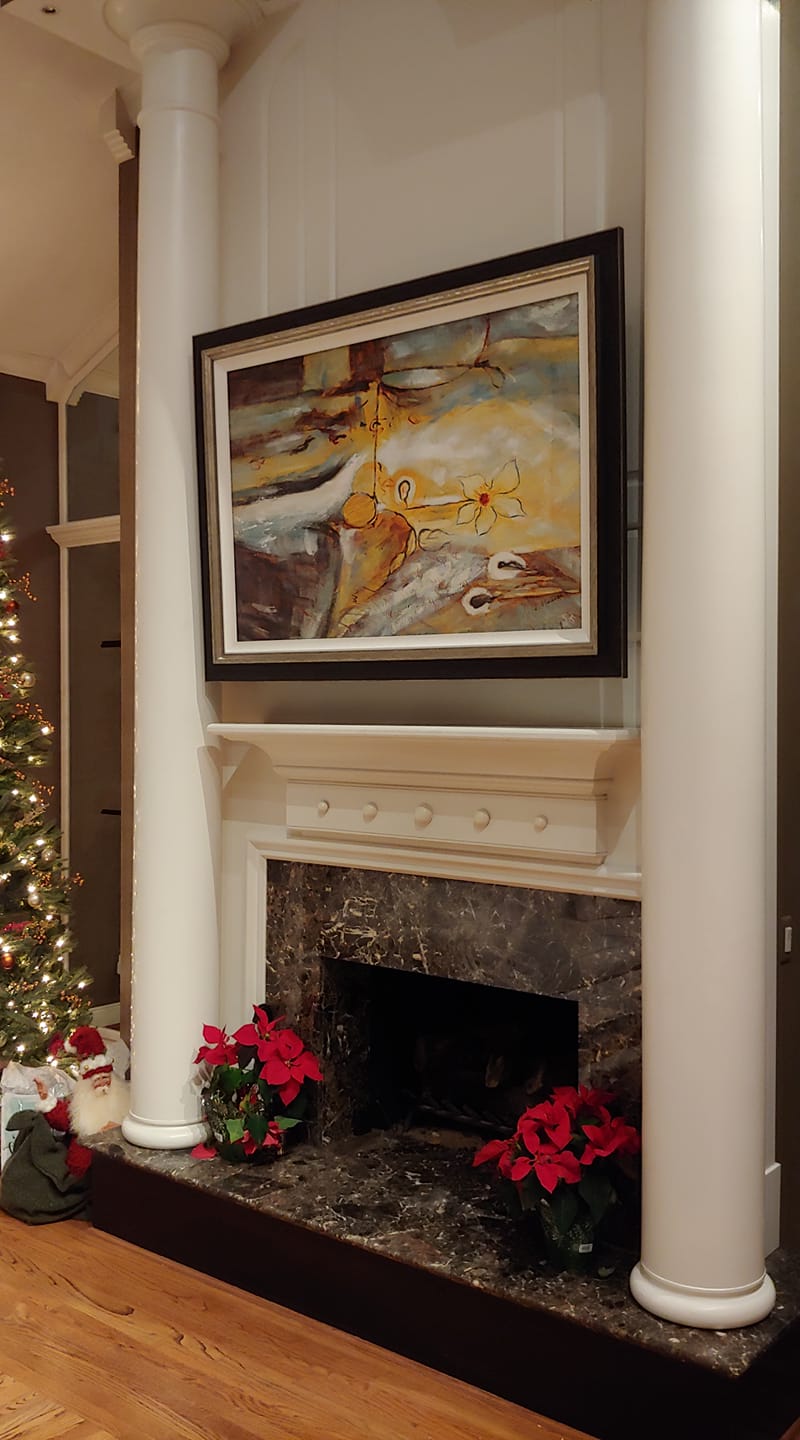 Manufacturers like Nexus 21, Future Automation and MantelMounts are among a few suppliers offering drop down lifts. Some solutions are motorized while others are manual piston driven.
When used in combination with our Bracket Adapter Plate Harware, the TV Art Cover is free to move along with the TV as the drop down mount repositions the TV down to a comfortable viewing level.
Be sure to fully research the mount you plan to purchase with the mount manufacturer PRIOR to ordering. This will require a bit of coordination to ensure the mount will clear the mantle and can support the combined weights of all components involved.
Video of drop down wall mount provided by Nexus 21
IMPORTANT!
Be sure to pay careful consideration to weight ratings to ensure your mount will be able to support the combined weight of your TV + TV Art Cover. If the combination of your TV + Frame exceed the weight rating of the lift you use, then the mount will not be able to lift the weight of the TV back to the up position and it will permanently remain in the down position.
Example Estimated TV Art Cover Weights (by TV diagonal size):
TV Art Cover for a 40" TV - approximate weight 60 lbs
TV Art Cover for a 55" TV - approximate weight 75 lbs
TV Art Cover for a 65" TV - approximate weight 85 lbs
TV Art Cover for a 75" TV - approximate weight 95 lbs
* For a TV Art Cover to attach to a drop-down type of mount, you'll need to choose our Bracket Adapter Plate hardware. (Approximate weight of this hardware is 10-15 lbs in addition to the above listed TV Art Cover weights)
Common Drop Down Lifts
Mantel Mount
Mantle Mount offers a variety of mounts for different capacities.
Recessed Mount Version
Their top of the line solution is the MM750 capable of handling all sizes of TVs.
On Wall Surface Version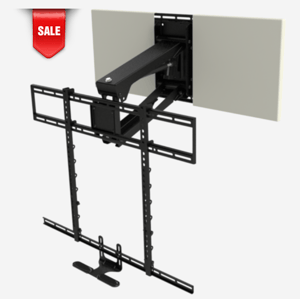 Their top of the line solution is the MM700 capable of handling all sizes of TVs.
Nexus 21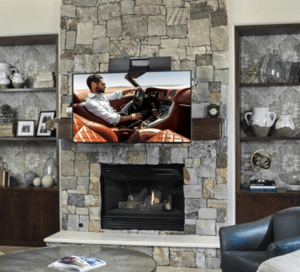 The Transcend Pro motorized over-mantel mount was built to optimize TV positioning. This precision-engineered mechanism is coupled with superior linear actuation technology to suspend up to 75″ TVs at the optimal viewing height with the press of a button. The Transcend Pro's slim profile allows the screen to rest only 1.5 inches off the mounting wall, while 40-degree swivel makes it even more versatile.
Future Automation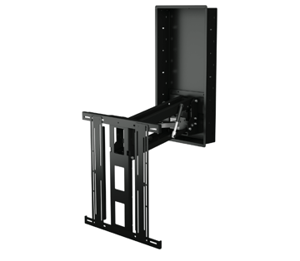 A premier leader in the professional-grade TV lifts industry, Future Automation provides a variety of TV lifts for different types of applications. Within their motorized drop down tv lifts, they offer 4 versions with different capabilities.
Manufacturer Info: View Product Page
Weight Capacity: 55 lb - 132 lbs
Where To Purchase: Contact Manufacturer