Order numbers are the identifier of a frame for reference purposes and are required for all support requests. Frame My TV is only capable of providing support for frames we have manufactured.
Deco TV Frames for Samsung The Frame
All Deco TV Frames order numbers are listed on the packing slip in the box.
Custom Product Lines
These product lines would made in 2019 and prior. These product lines have all been discontinued and are no longer in production. Support for these product lines is extremely limited as we no longer have the facilities setup that were used to make these product lines.
IMPORTANT NOTE: The overwhelming majority of the support requests we receive are not for products manufactured by Frame My TV, but rather they are because we are the most recognized name in the industry. We can only provide support for the products we have manufactured. To do so, we must be able to locate your order number in order to provide support. Click Here to locate the support contact numbers of other manufacturers
Locating Your Order Number
On the lower right side of your frame, you'll find a sticker like the one shown here to identify the order number associated with your frame. From this order number, we can look up all documentation, work orders, technical info, and your invoice.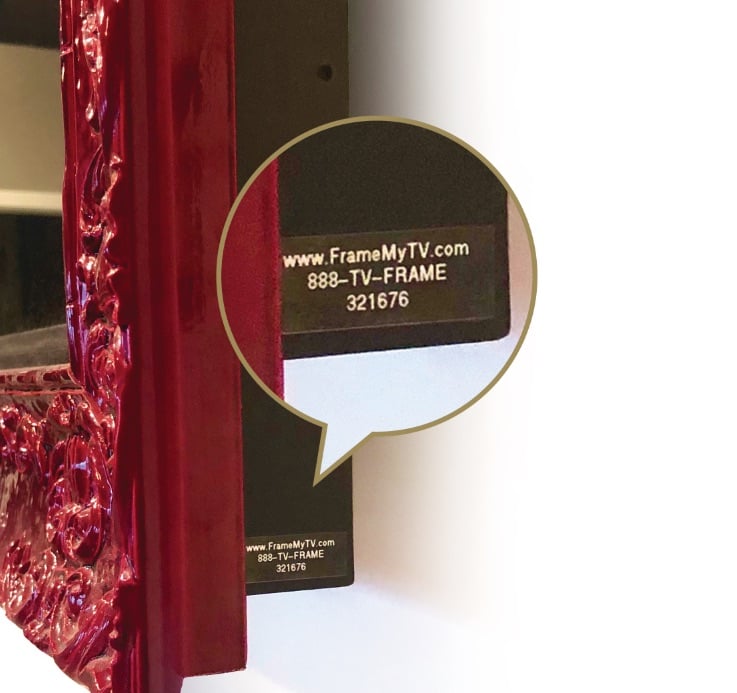 The order number is the 6 digit number at the bottom of the label.
Frame My TV Order numbers typically start with a 2xxxxx or a W32xxxx
Not Sure if your frame was Made by Frame My TV?
Despite being the leader in the industry, we frequently receive requests for assistance with frames made by other manufacturers simple. Due to the highly proprietary methods and various unique approaches by various suppliers, we only have the ability to provide support and technical assistance with systems made by Frame My TV.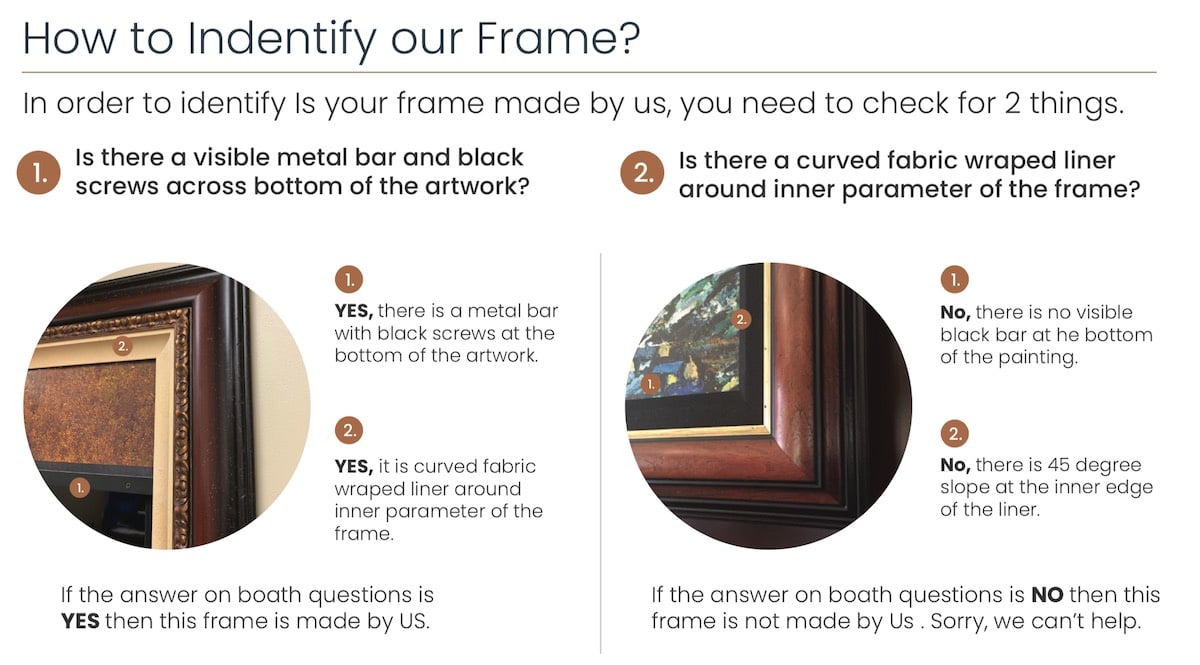 What if my frame wasn't made by Frame My TV?
While we wish we could help everyone, we are simply unfamiliar with the components and construction methods of competing product lines. You'll need to contact the correct manufacturer and ask to speak with their support department. We hope the following list of phone numbers for each company will help to point you in the right direction to find a solution to your issue.
TV Art Cover Manufacturers:
Vision Art - 866-432-4355
Vutec - 954-545-9000 Option 1

Leon Speakers (formerly Media Decor) - 954-524-1104
TV Mirror Manufacturers:
Seura - 888-309-7768
Electric Mirror - 425-776-4946
Hidden Television - 419-787-4526