TV mirror glass sometimes needs to have the back blacked out for the best results when the TV doesn't fill the entire mirror.
IMPORTANT PLEASE READ:
Cut-To-Size TV Mirror glass and backpainted TV mirror glass is being discontinued. We have a small amount of inventory remaining. Please contact tom@framemytv.com to discuss your project and for inventory status.
This article is temporarily still active for reference while remaining orders are fulfilled.
Why is Black Backing Necessary?
With a TV mirror, the reflective coating is on the surface of the TV mirror glass and behind the glass is a black TV Screen when the TV is turned off. Therefore, if the TV mirror extends beyond where the TV screen is, we will need to add a black backing to simulate the same effect caused by the black surface of the TV in those other areas as shown here with one of our Floating TV Mirrors.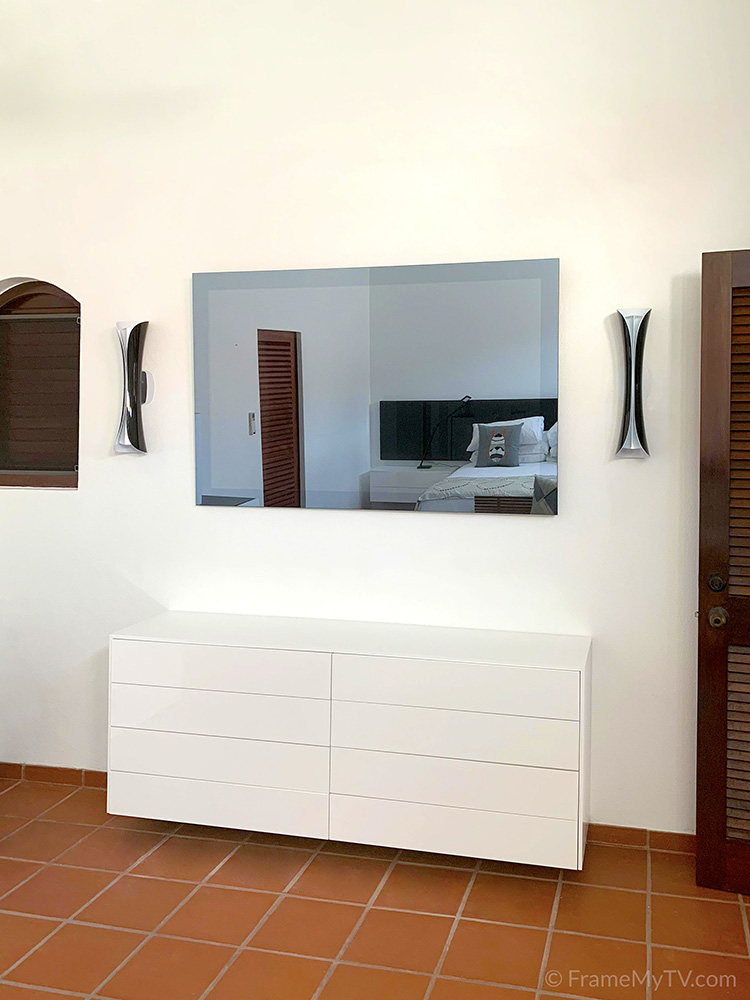 ABOVE: Floating TV Mirror with OptiClear Ultra Mirror Glass. OptiClear Ultra glass is our best glass for TV viewing, but the reflectivity is a bit lower than a conventional bathroom vanity mirror which is why if you look closely at the picture above you'll see a slight transition where the TV screen edge begins and ends. Typically we see OptiClear Ultra glass used in living room and bedroom applications, while the Reflections Vanity Mirror is used more in Bathroom Vanities where the primary purpose is higher reflectivity in those areas as opposed to entertainment TV viewing.
Rigid PVC Backing
Adding a piece of 3mm thick PVC Backing between the mirror and the wall like in this scenario with a Bathroom Vanity mirror is a great way to have the ultimate flexibility in the field to be able to position the opening anywhere you want by cutting a hole in the PVC using a utility knife.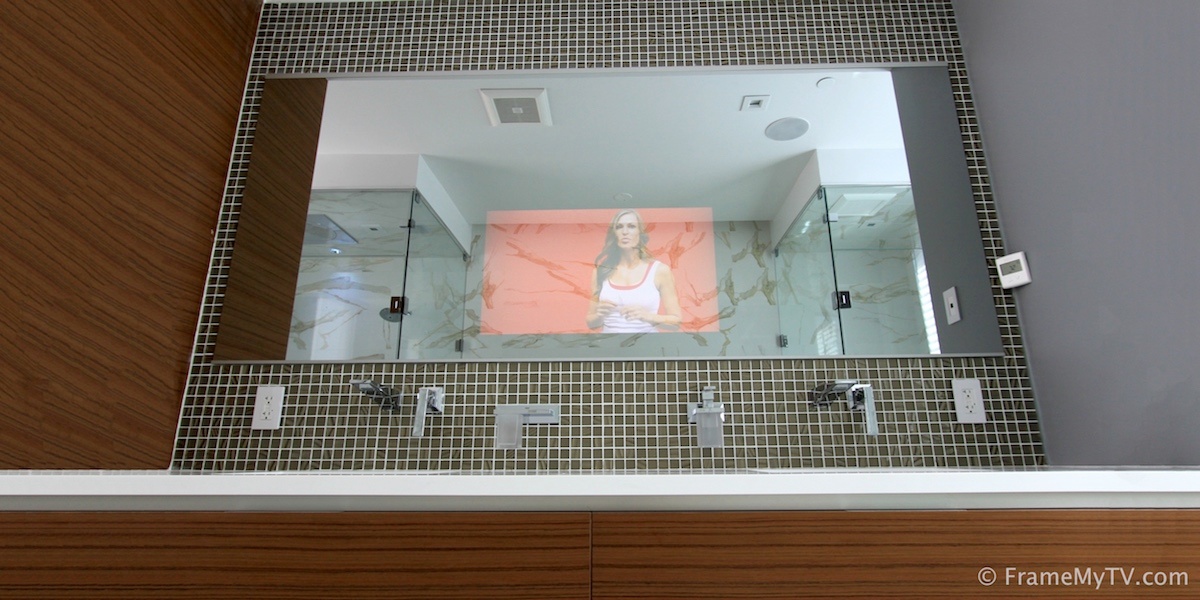 Shown here is our Reflections Vanity TV Mirror Glass with the J Channel Mounting method. Notice how because the Reflections vanity glass is a higher reflectivity glass, there is no visible transition in where the TV is when turned off. The trade off here, is there is a greater impact on the TV's picture because the glass itself is darker and more reflective. Reviewing samples of TV mirror glass is always advised prior to ordering custom cut-to-size TV mirror glass.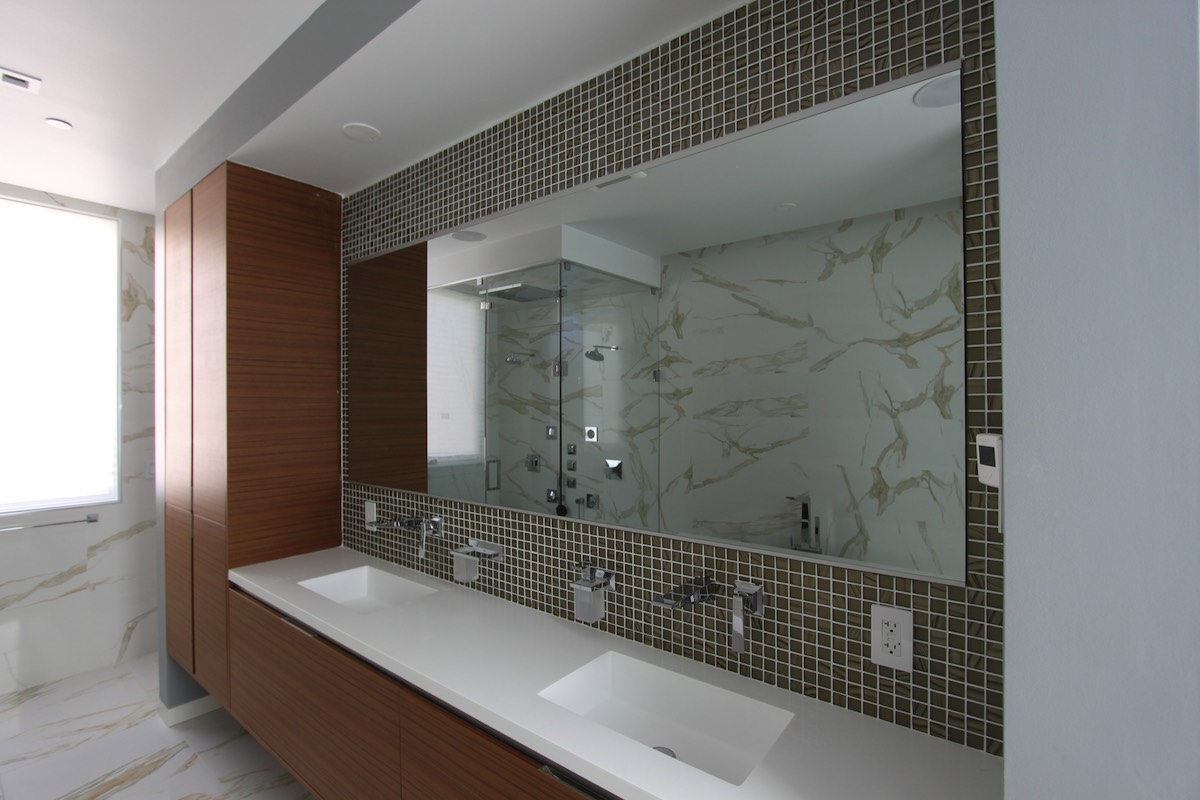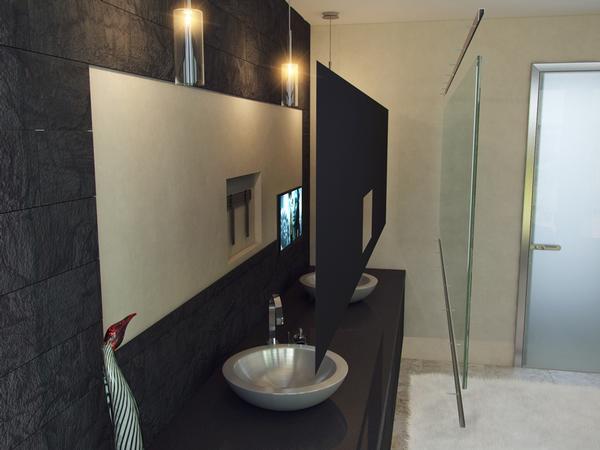 Black Back Painting
A more permanent, but all-in-one sort of scenario is to have us back paint the mirror glass for you. We will mask out the back of the glass and paint the back in all of the areas where the TV screen will not show through as shown below.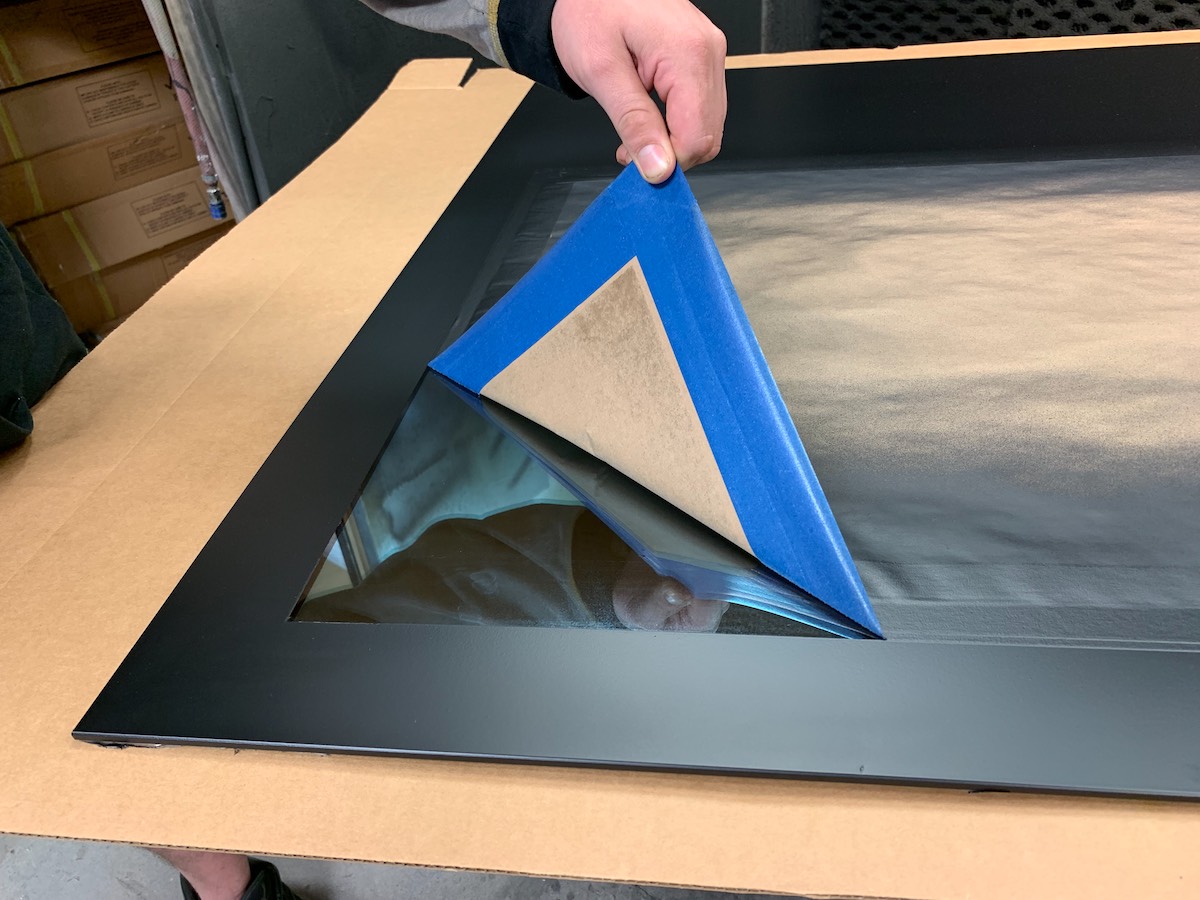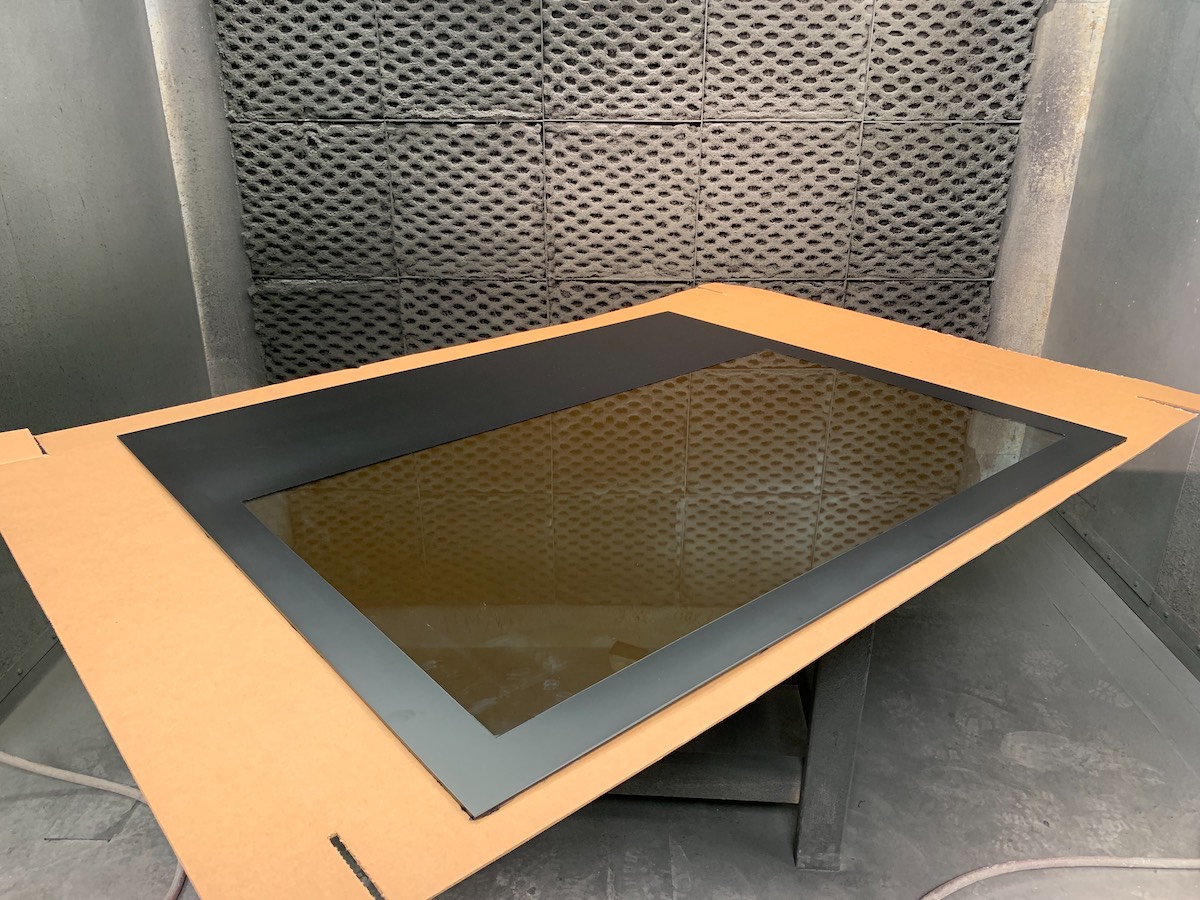 Back Painting Instructions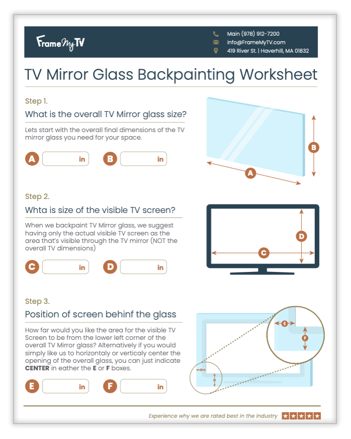 Complete our Glass Backpainting worksheet to give us instructions on how you would like your glass painted based upon where you plan to have your TV show though the glass.
Pricing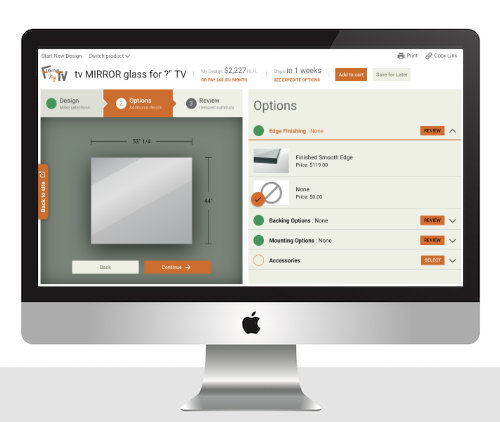 Using our Quote Builder Tool, you can custom configure and quote your Cut-To-Size TV Mirror Glass with any of these backing options. You can also choose edge finishing options and other accessories if needed.
Standard Manufacturing Lead Times
TV Mirror Glass Cut-to-Size with or without Rigid PVC backing is 1 week
TV Mirror Glass Cut-to-Size with Blackout Back Painting is 2 weeks
Framed TV Mirrors are 4 weeks
The above manufacturing times, do not include transit time from Boston. Normal transit times for the Northeast are 1-2 business days and West Coast is about 1 week transit.
Expediting options are available in some cases. Learn More About Expediting Options
TV Mirror Glass Types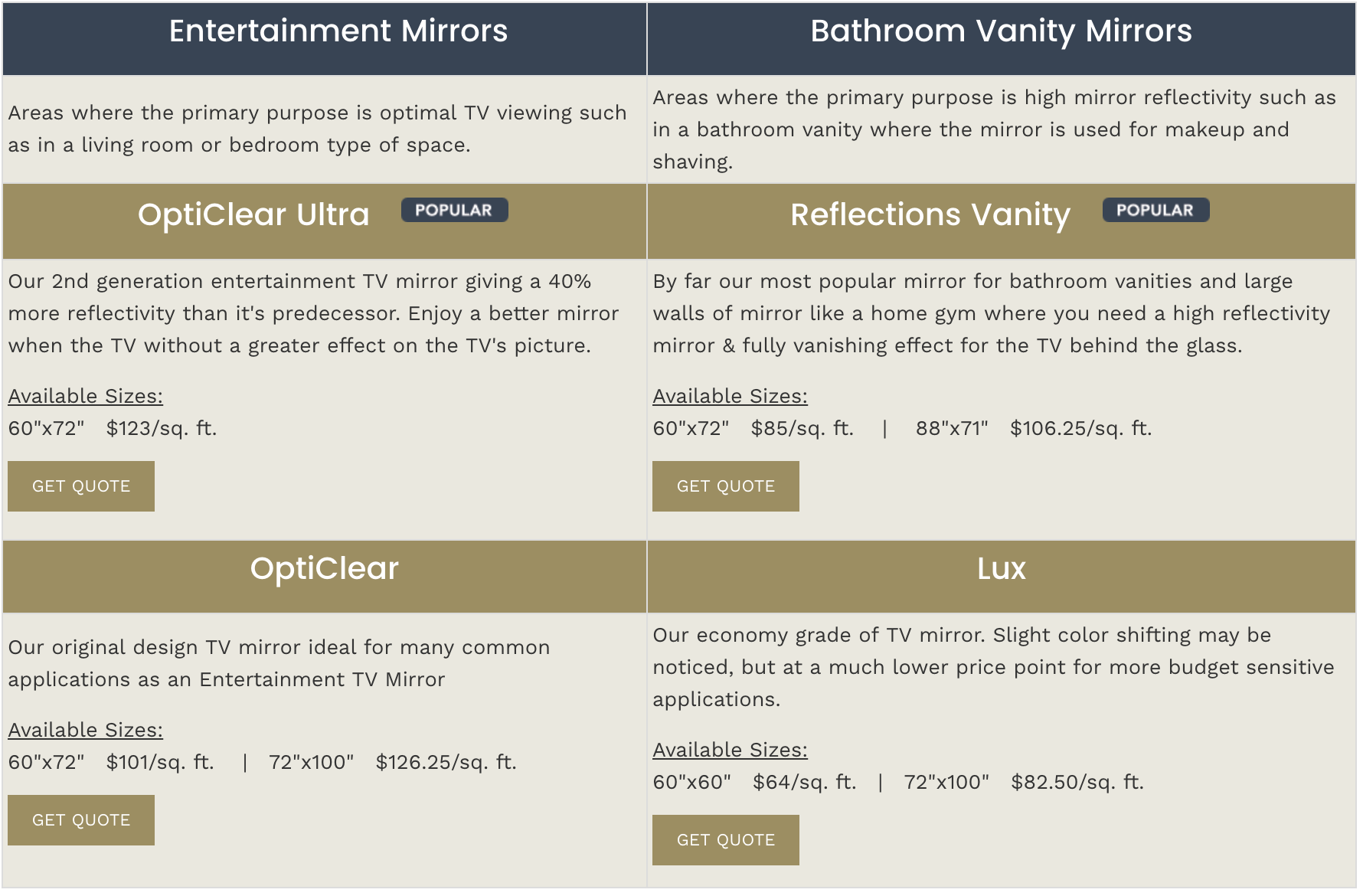 Get TV Mirror Samples
The best way to truly get a feel for how TV mirror look and work in your space is to order TV Mirror Samples for a first hand look before purchasing custom cut-to-size TV Mirror Glass.