Our J Channel mounting method for TV mirrors allows you to turn your bathroom vanity into a TV hidden behind a mirror without the need for a frame.

Due to Supply Chain constraints, the TV Mirrors Product Line is No Longer Available. This page is remaining active for archived purposes for existing clients. Please checkout our Deco TV Frames product line instead.
PLEASE NOTE: We do not sell televisions or offer any solutions that include the TV as part of our TV mirrors. The advantage here is you can use any TV you would like without paying an additional markup on the TV.
Commonly our clients will want to install one of our TV mirrors on a wall without a frame. This can be accomplished a variety of ways. Here we show one example of a large vanity mirror using our J Track mounting method with our Reflections TV Mirror showing a small TV through a portion of the mirror for watching TV while getting ready in the morning.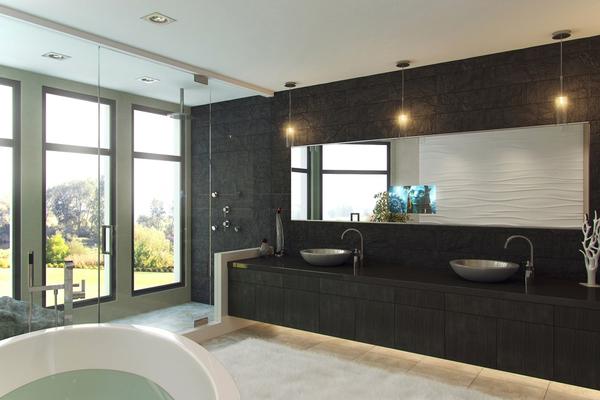 With this exploded view we can see the primary components used to accomplish this scene. (Click image for detailed view)
Recessed In-Wall TV - Recess your TV in the wall on a standard wall mount with the surface of the TV flush to the surface of the wall.
Blackout Backing - When ordering your cut to size mirror you can select our blackout backing to have a piece of extruded PVC made to the same overall size as your mirror. Then during the installation process with a utility knive you can cut the square out for where the TV will show through the mirror.
TV Mirror - Select your mirror cut-to-size using our TV Mirror Calculator. For bathroom applications you'll want to use our Reflections TV Mirror for the best reflectivity.
NOTE: If any of the sides of your mirror will be exposed for your desired installation method, you'll probably want to select the mirror edging option we offer for a finished edge on your mirror.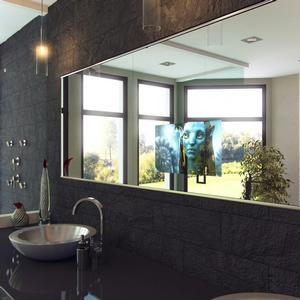 J Track Mounting - The mirror is installed on the wall using a combination of a lower and an upper J Track to hold the mirror and Blackout Backing The tracks screw into the wall above and below the mirror first. Then you place the blackout backing and the mirror into the upper J Track (deeper track) first then lower the bottom edge of the mirror into the lower J Track (shallower track). Use of suction cups is highly recommended to make this process easier especially if you need to take the mirror out at some point in the future for access to the TV.
NOTE: When using this mounting method, please allow an extra 1/2" of height on the wall for the track to properly accommodate your piece of glass. For example, if you have a space of 30" wide x 40" tall on your wall and you want to use J Track, the piece of TV Mirror glass you purchase can only be 30" x 39 1/2"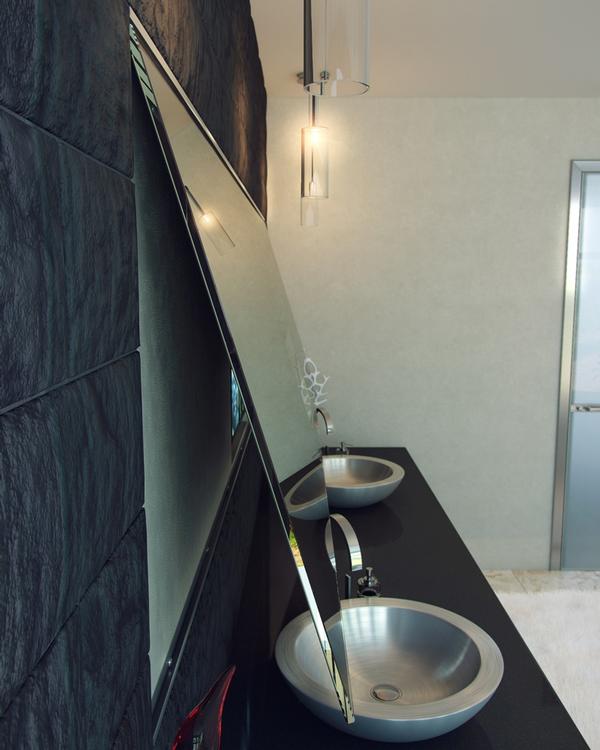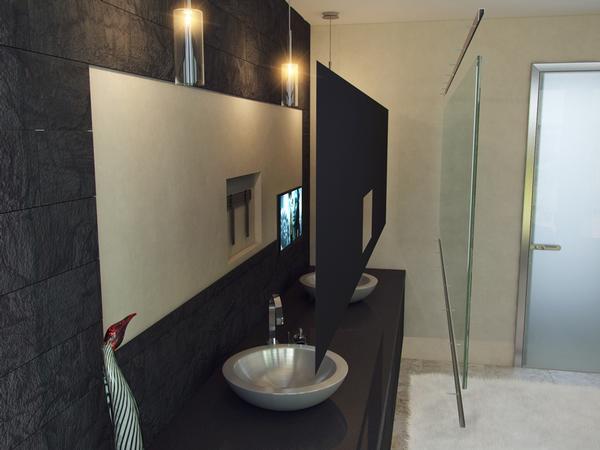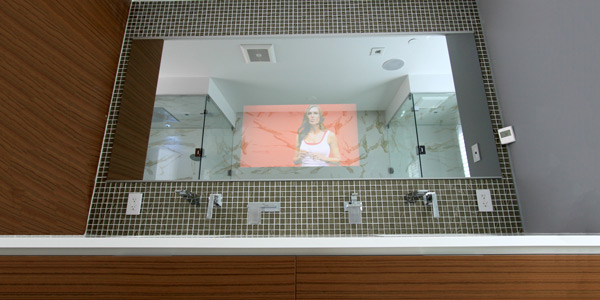 Also learn more about our Framed TV Mirrors
Pricing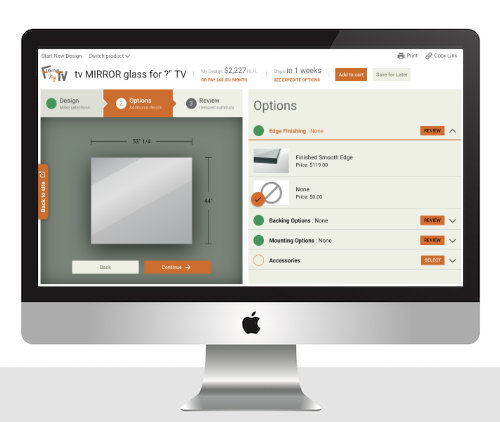 Using our Quote Builder Tool, you can custom configure and quote your Cut-To-Size TV Mirror Glass with any of these backing options. You can also choose edge finishing options and other accessories if needed.
Get TV Mirror Samples
The best way to truly get a feel for how TV mirror look and work in your space is to order TV Mirror Samples for a first hand look before purchasing custom cut-to-size TV Mirror Glass.