Faster production times are an available for when your deadline is quickly approaching.

Since all orders are custom made-to-order, we always strive to batch process orders through production for the greatest efficiency since there are many similar steps in the manufacturing process. Even still, we understand that sometimes our normal productions times simply won't work if you have a quickly approaching deadline.
Normal Production Time
TV Art Covers - Approximately 6 weeks
Framed TV Mirrors - Approximately 4 weeks
TV Frames - Approximately 4 weeks
TV Mirror Glass - 3-5 business days (unless special services like back painting are needed, which is a 1-2 week normal production time)
Deco TV Frames - This product line is in stock and ready to ship within 1 business day.
NOTE: Production times DO NOT include transit times from the Boston area to your destination. Yes, it's true that expedited shipping options are offered by shipping carriers, but do keep in mind that most of our shipments are palletized freight shipments and therefore the mere few days you might gain from expediting shipping is generally not worth the extreme costs of flying a palletized shipment.
Expedited Production Options
When designing your frame in the Quote Builder Tool you will see the available rush options at the top of the page.

We offer a few different levels of expedited production based on how soon you need your merchandise.
Guaranteed - Ensures that your shipment will leave in exactly the above normal production time rather than an "approximate" production time which can fluctuate by roughly a week. Rate for this service: 3% additional
Partial Rush - Reduces the normal production time by 25%. Rate for this service: 7% additional
Standard Rush - MOST COMMON - Reduces the normal production time by 50%. Rate for this service: 15% additional
Priority Rush - Reduces the normal production time by 75%. Rate for this service: 50% additional
NOTE: Expediting options are subject to availability based on our current production volumes. Some rush options may be unavailable, contact us at 978-912-7200 or Schedule a Time to discuss your deadline and for availability of rush services. Also keep in mind that expedited service is NOT the delivery date, but rather is the date the merchandise ships from our factory. Shipping transit times may vary depending on your destination and time of year.
Design & Price Your Solution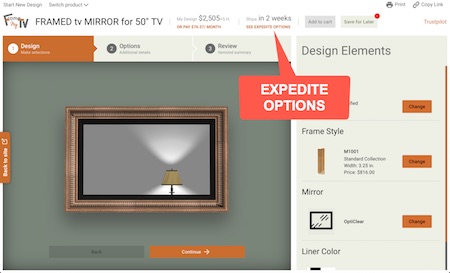 To get a detailed quote, checkout out online Quote Builder Tool to instantly design your custom solution in just a few clicks. Then click the LINK symbol in the top right corner and share that with our representative when you speak with them. You'll also see the rush options next to the price at the top of the page.