Edge finishing can be necessary for some applications
Edge Finishing Option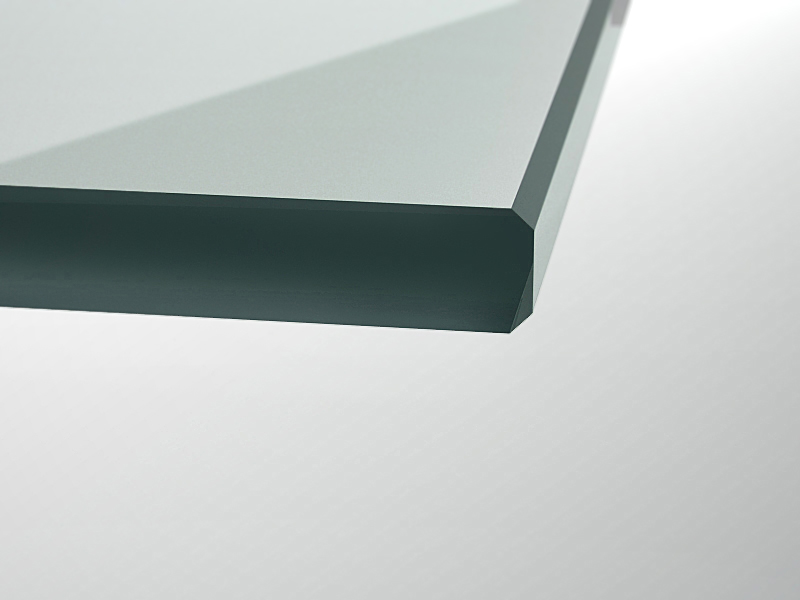 With TV Mirrors, we offer a finished edge that's a flat grind with a slight chamfer as shown. You can choose this option within our Quote Builder Tool when building a quote for TV Mirror Glass Only
If you would like to see a sample, we suggest ordering a TV Mirror Sample so you can see the finished edge.
NOTE: This is not a shiny "polished" edge, but rather its just a finished edge as shown in the image here.
IMPORTANT: We strongly advise ordering TV mirror samples before purchasing any of our custom made-to-order TV mirror products to help you with choosing the best type of glass for your application. Get Mirror Samples
FAQs
Beveling
While we commonly receive request for a beveled edge, this is something that you can't really do with a TV mirror because unlike with a conventional mirror like the one shown here, for TV mirrors the reflective coating is on the face of the glass rather than on the back like with a normal mirror.
Tempering
The process of tempering is a heating and cooling process for hardening glass and turning it into what's often referred to as "safety glass." We do not advise tempering TV Mirror glass because doing so could result in a wavy effect to the reflection of the mirror.
All of the glass options we offer are for annealed glass, which means that it can be cut to different sizes. Tempered glass would NOT be able to be cut to different sizes.
Non-Rectangular Shapes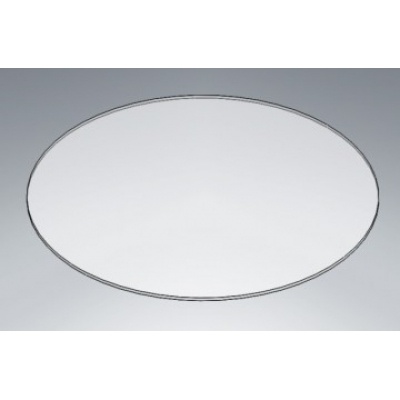 At this time, we do not have the ability in house to offer shapes other than rectangular straight cuts.
There is a local laser water jet cutting provider we can outsource this service to for unique shapes. We would need to have this custom quoted based on your requirements, but generally speaking this add-on service starts at $999 and would vary based on size and complexity.
Alternatively, you might try to take the rectangular piece we cut for you to a local glass fabricator to see if they could cut your unique shape. All of our TV mirror glass is "annealed" which means it can be recut.
Holes, Outlets & Other Cutouts
At this time, we can only have cutouts made for our oversize pieces of Lux and OptiClear glass types because these items are special ordered directly from our glass factory where they have those capabilities in-house.
Samples
Practice Cutting with Samples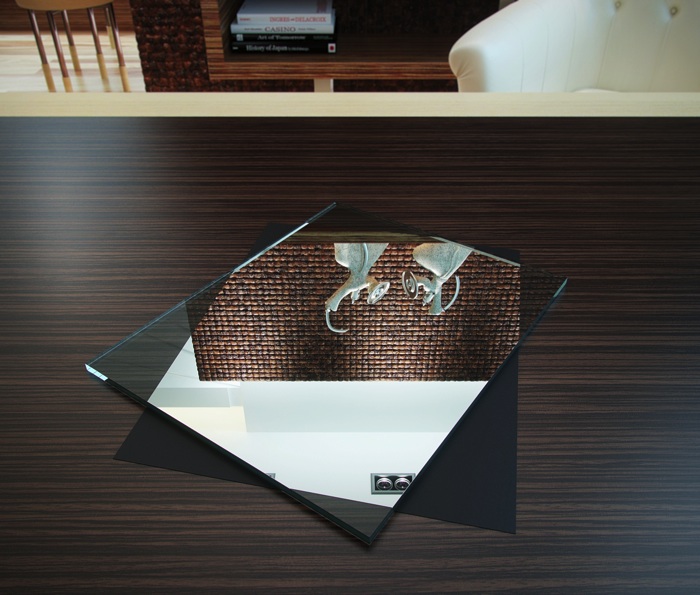 To make practice cuts, checkout our TV mirror samples to get a better feel for how TV mirror glass can be cut, rather than prating on a large non-returnable piece of glass.
Here you can Order TV Mirror Samples and samples come with a credit of up to $50 to be applied toward your final full size TV Mirror Purchase.

Other Frequently Viewed Articles: