One feature of Samsung The Frame TV is a motion and light sensor that detects activity and ambient light levels in the room.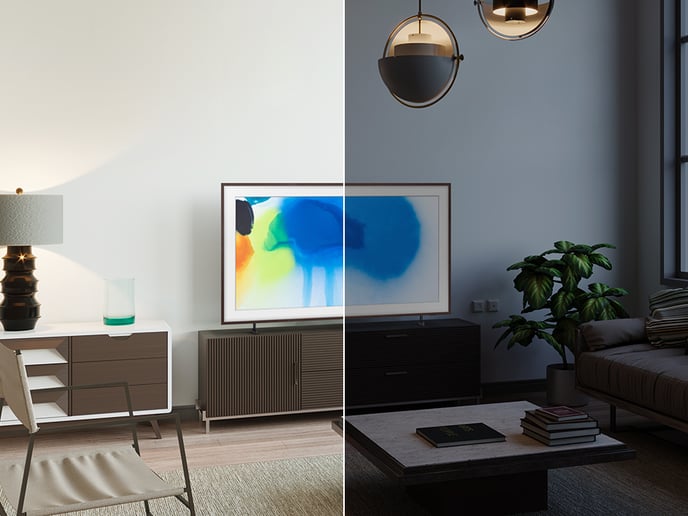 Motion Detection: When the TV is in ART MODE, if the room is vacant or no motion is detected for an extended period, then the TV screen will power down. When activity or a significant change in the light level (i.e., a light switch being turned on) is detected, then the TV will turn back on to art mode within a few seconds.
Light Detection: When in ART MODE, the TV will read the approximate light level in the room and will adjust the brightness of the art on the screen to mimic what a piece of art would look like in a dimly lit room.
IR Sensor: There is also an IR sensor for when using a third party remote that communicates via infrared line-of-site. The default function of the Samsung provided remote uses Bluetooth RF communication and does not require line-of-site like an IR remote would. If you are using a third party remote via IR with a Deco Frame you'll want either our IR-3 infrared repeater or our more advanced SRS-2 module that has motion, light, and IR sensing capabilities.
In Combination with a Deco TV Frame
Since our Deco TV Frames are wider than the add-on bezels that Samsung offers, the motion sensor is somewhat obstructed and the effectiveness of that sensor can be diminished. So to address this there are two solutions.
Disable Night Mode and everything will work fine. CLICK HERE

Add our optional Smart Room Sensor (Sold separately)
Be careful to order the correct Smart Room Sensor for your specific TV model year. See Below for more details.

Smart Room Sensor for 2017-2020 Samsung Frame TVs
The Smart Room Sensor (SRS-1) module to add-on as an accessory for our Deco TV Frames. This module detects motion and light levels in the room and sends the information into the Samsung Frame TV's built-in motion and light sensor!
Then, the TV can return from sleep mode when motion is detected and also the brightness of the TV will auto-adjust based on the lighting in the room as shown above.
Order the SRS-1 Unit (this model ONLY works with 2017-2020 Frame TVs with our Premiere collection of frames. NOT Compatible with Alloy Frames or 32" Frame TVs)
Smart Room Sensor for 2021-2022 Samsung Frame TVs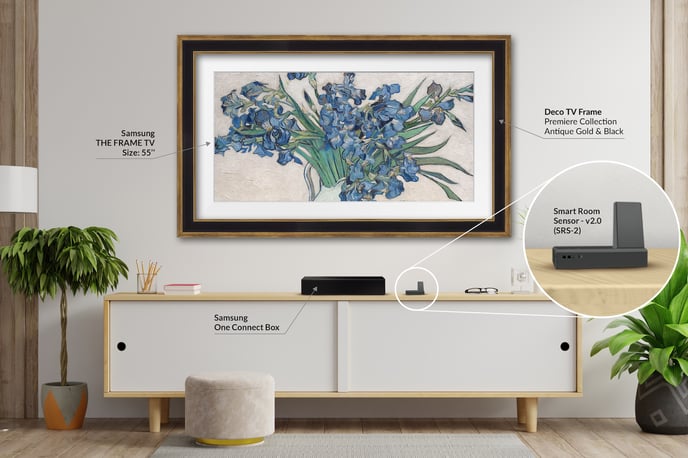 The Smart Room Sensor has been completely redesigned with additional features compatible with all model years of Samsung The Frame as the SRS-2.

Learn More about this Device
Looking to Purchase a Samsung Frame TV?
S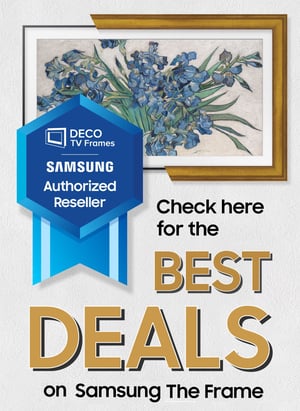 hop small with small businesses and get the best deals on Samsung Frame TVs. Not sure if we're the best deal? Compare us to the prices on Amazon and get the best deal.
See Our Prices on Samsung The Frame