Can Samsung Frame TV Be Mounted Vertically like a painting?
Yes! The Samsung The Frame TV can be mounted vertically though this varies by model year. Let's dive into this topic a bit deeper.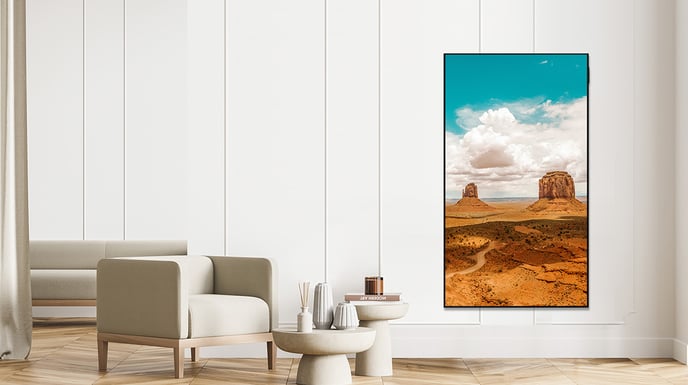 Samsung started to phase in "vertical art" quietly in 2020 with the release of their first 32" Frame TV, then in 2021 they added 43" TV support and in 2022 they really expanded it to most of the rest of the lineup.
How Vertical Art Mode Works
When the TV is in Art Mode a piece of vertically oriented art is automatically detected based on the pixel dimensions of the piece of art so it can know if the art is natively vertical or not.
Example: An image with dimensions 3840 x 2160 is a horizontal image, but if you have an image with resolution 2160 x 3180 then the TV know's that's a VERTICAL piece of art and therefore will display it vertically full screen.
Mobile Streaming Vertical Content to Samsung Frame
If if you want to stream video from your phone to your TV and have it fill the screen, then this can easily be accomplished when the TV is vertical using the new vertical streaming mode.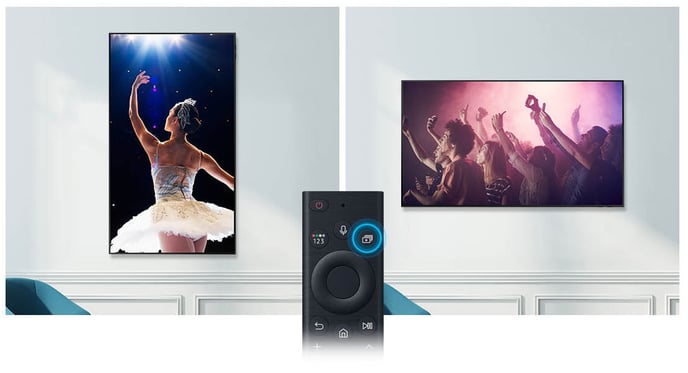 FAQ: What happens to my art or TV's video picture if the TV is mounted vertically?
In this instance, the TV would just show the video or piece of art horizontally while the TV is hung vertically.
Vertical Mode Supported on Samsung Frame TVs
Which model years and sizes of Samsung Frame TVs support art mode you ask? This handy table will tell you.
| | | | | | | | |
| --- | --- | --- | --- | --- | --- | --- | --- |
| | 32" | 43" | 50" | 55" | 65" | 75" | 85" |
| 2022 | YES* | YES* | YES** | YES** | YES** | | |
| 2021 | YES* | YES* | | | | | |
| 2020 | YES* | | | | | | N/A |
* Fixed mount vertical mounting hardware included in the box with these models.
** Fixed vertical mount hardware is NOT included in the box for these models. The Auto-Rotating mount described below is the only way to vertically mount these screen sizes.
Auto-Rotating Vertical Mount for Samsung Frame TVs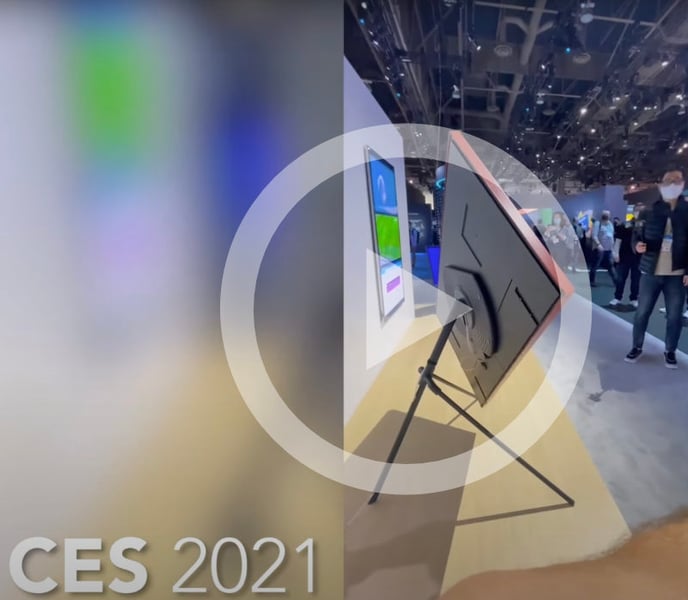 NEW for 2022 is an auto-rotating version of the wall mount and studio stand for Samsung Frame TVs and of course, we have all the latest details on this new mount.
NOTE: The auto-rotating mount is ONLY compatible with 2022 Samsung Frame TVs from sizes 43"-65". The 43" model of the TV includes fixed vertical mount hardware as well, but you can optionally add the auto-rotating mount.
Vertical Art for Samsung Frame TVs
Now that Samsung is starting to dive into supporting vertical art, the Samsung Art Store that's built into the TV does include a collection of vertical art to choose from as well. A subscription to the art store is required to access the vertical art.
Additionally, Deco TV Frames is excited to announce that we have our very own Art Store and if you Follow @decotvframes on Instagram, you'll receive $50 in FREE art just for following! Now that's a deal!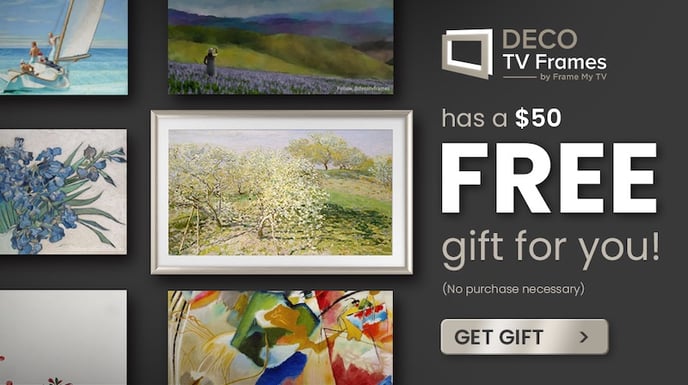 Example Customer Photos - Vertical Samsung Frame TV
We have not seen many examples of this just yet, but here are a few photos from a recent client who used our Deco TV Frames with 43" Samsung Frame TVs in a vertical orientation. If you have more example photos, please send them into us to post.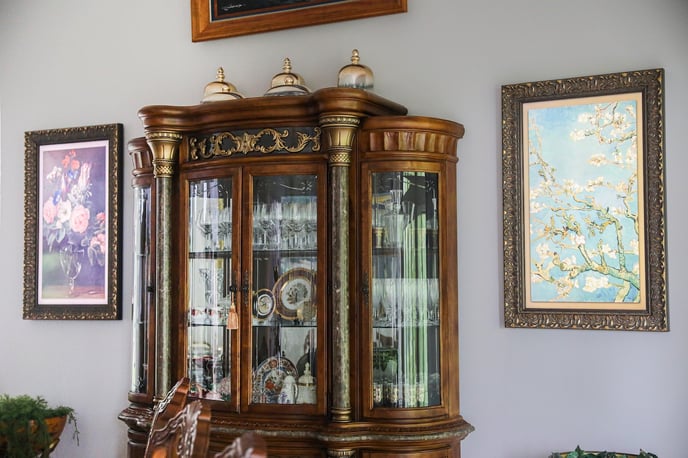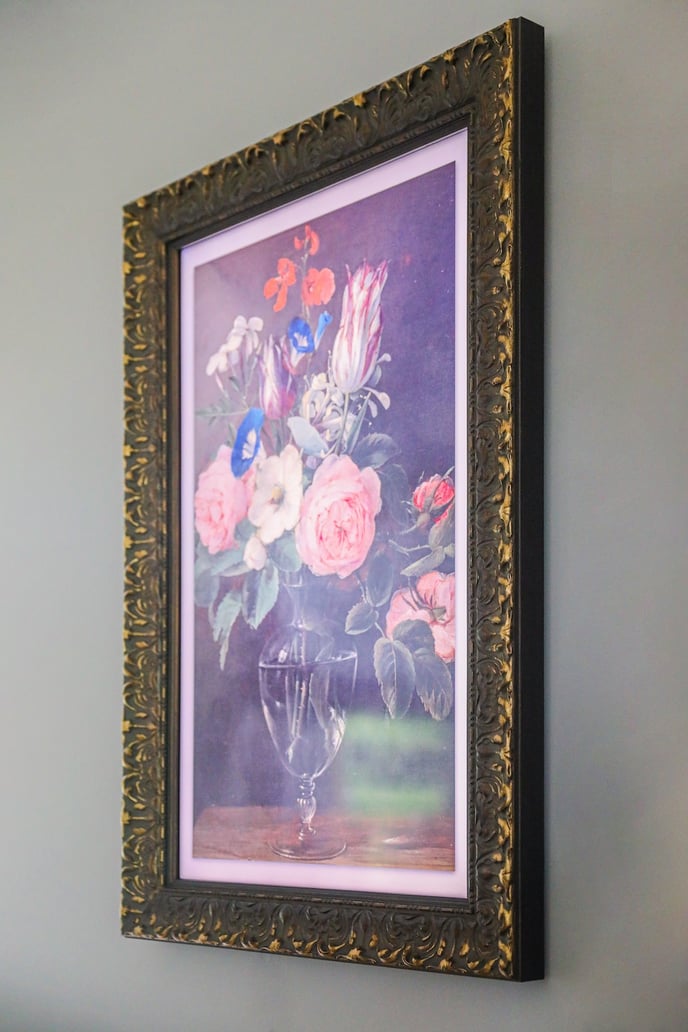 Shown here with the 43" Samsung Frame in vertical orientation, is our Tuscan Gold Deco TV Frame.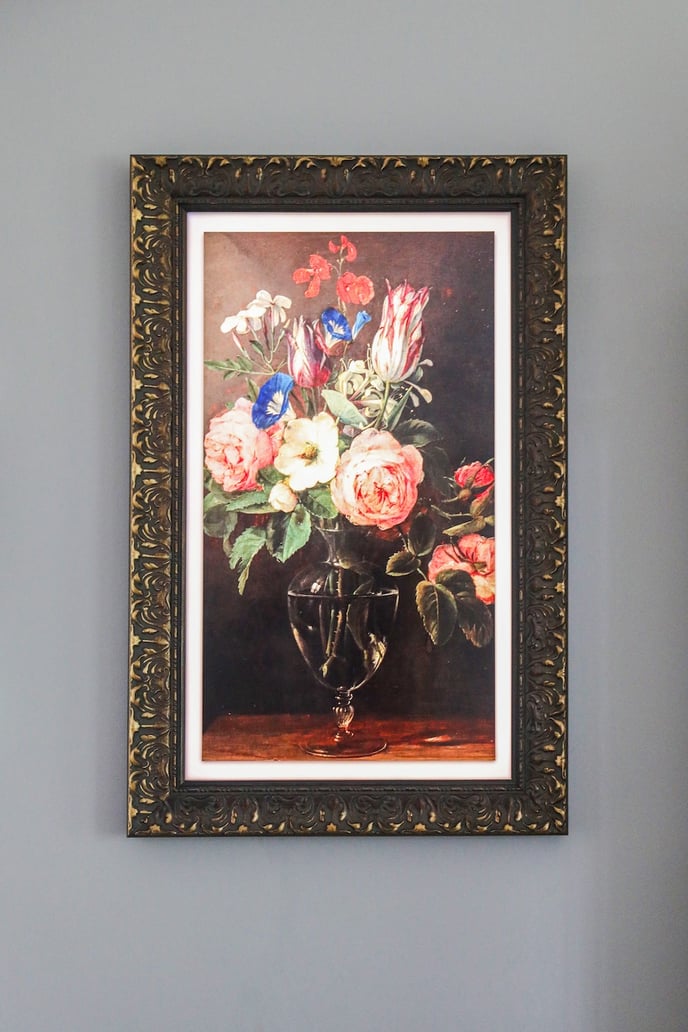 Samsung The Frame Vertical Install Info

Please check back soon. This article is under construction and soon we will information and video on how to install the Samsung Frame TV vertically. Meanwhile, subscribe to our YouTube Channel and enable alerts to be notified when the video is published.
Our YouTube channel also has many other good pieces of information on Samsung Frame TVs.

Looking to Purchase a Samsung Frame TV?
S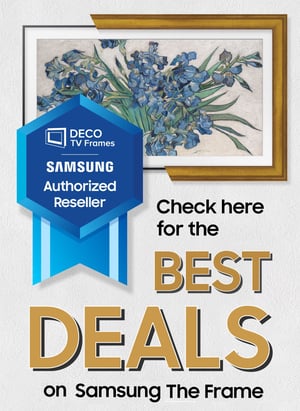 hop small with small businesses and get the best deals on Samsung Frame TVs. Not sure if we're the best deal? Compare us to the prices on Amazon and get the best deal.
See Our Prices on Samsung The Frame
More Examples of our Framed TVs