The new motorized mount available for Samsung The Frame will automatically rotate the TV from horizontal to vertical art.
At CES Las Vegas in January of 2022 we were excited to discover this cool new offering by Samsung.
NEW Motorized Rotating Samsung Frame Mount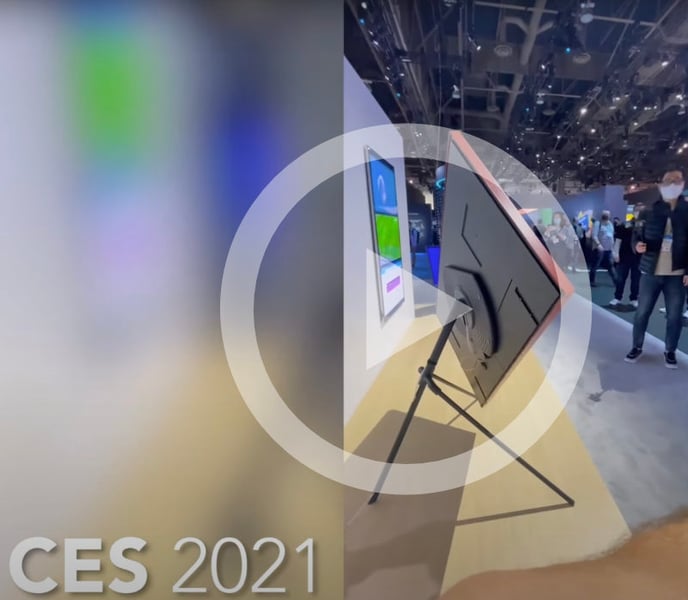 At CES 2022 in Las Vegas we were excited to discover this NEW motorized rotating wall mount to switch the TV from horizontal to portrait mode. This way you can display your artwork vertically when not watching TV or also when viewing content from your mobile device you could view the content vertically to fill the screen.

Showcase your mobile content in whichever orientation you captured it.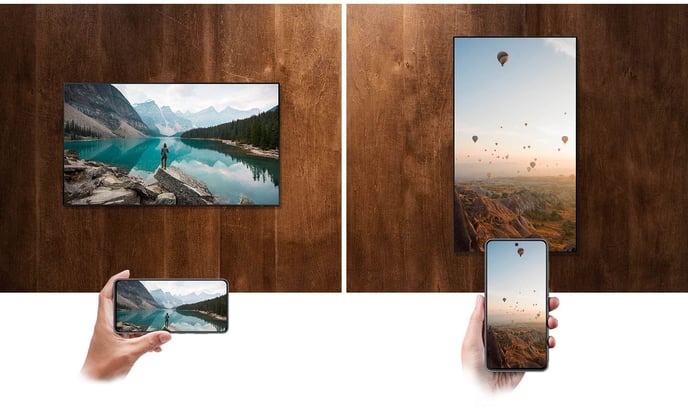 Model Year Compatibility
The auto rotating Samsung mounts are ONLY compatible with the 2022 Samsung Frame TV. The pairing process of pairing the remote to the rotating mount will fail with any other year of TV.
Additionally the rotating mount works with QN85B, QN90B, QN95, QN900B, QN800B, QN700B TVs, but do keep in mind that Deco TV Frames are not compatible with these additional QN models. Our frames are only compatible with Samsung Frame TVs.
Auto Rotating Mount Versions
An interesting things to note about this mount. Because there are a few different VESA Mounting patterns on Samsung The Frame TVs, there will be TWO different versions of this wall mount.
Rotating Mount For 65" Samsung Frame TVs
This TV features a 400mm x 300mm VESA Mounting Pattern
Rotating Mount For 43", 50" & 55" Samsung Frame TVs
This TV features a 200mm x 200mm VESA Mounting Pattern
Shop Amazon For Samsung Auto Rotating Wall Mount
Get the best price on Samsung Auto Rotating Wall Mount
Rotating Mount For 32", 75" & 85" Samsung Frame TVs
There IS NOT a rotating mount made for these TVs. Do not try to use the above two mounts as they will not work.
Here's a photo from the actual instructions showing specifically which versions of the rotating mount will fit which TVs.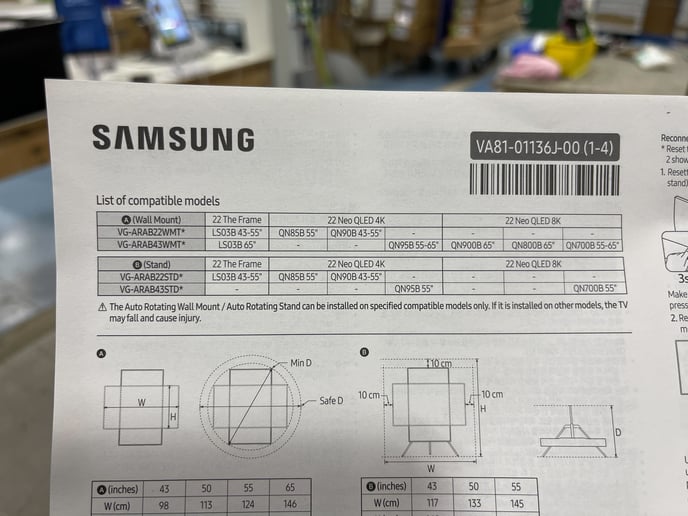 Auto Rotating Wall Mount Power Requirement
All versions of the auto rotating wall mount come with a 24V power adapter that plugs from the bottom of the wall mount to a standard 110v/240V wall outlet.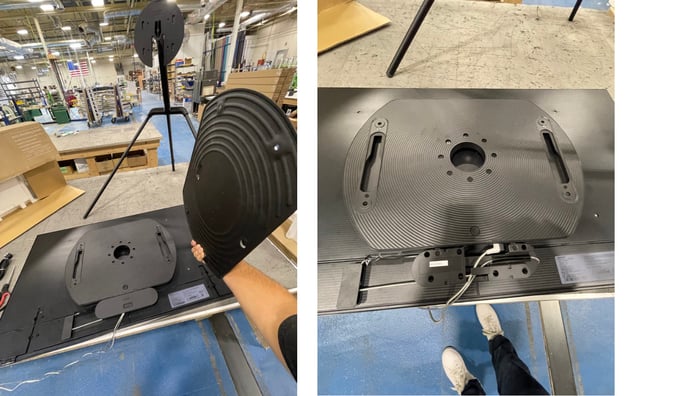 Depth From Wall

The auto rotating mount combined with the TV makes the TV project just 2.5" from the face of the TV back to the wall.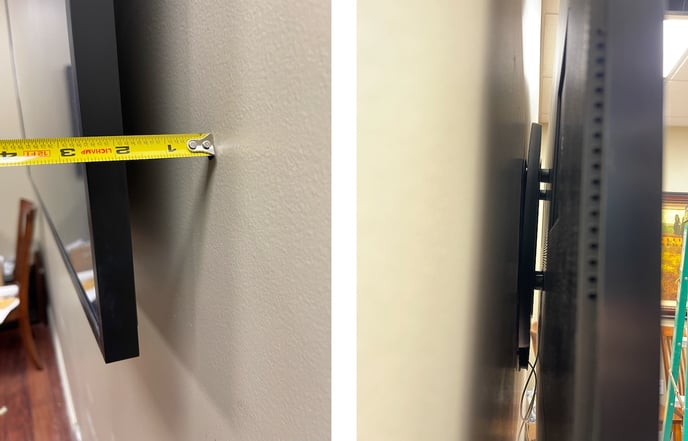 Stream Mobile Content to Samsung The Frame
Now supporting both vertical and horizontal content directly from your phone.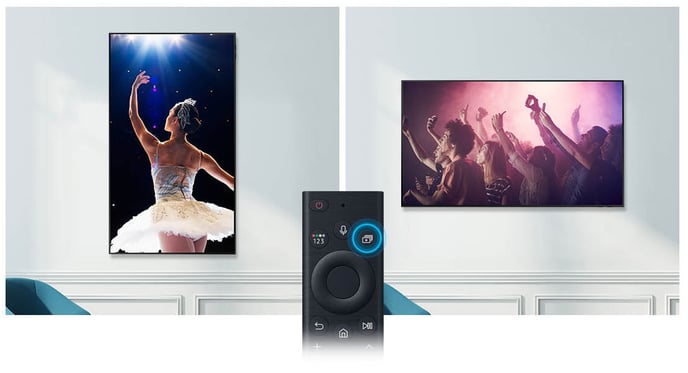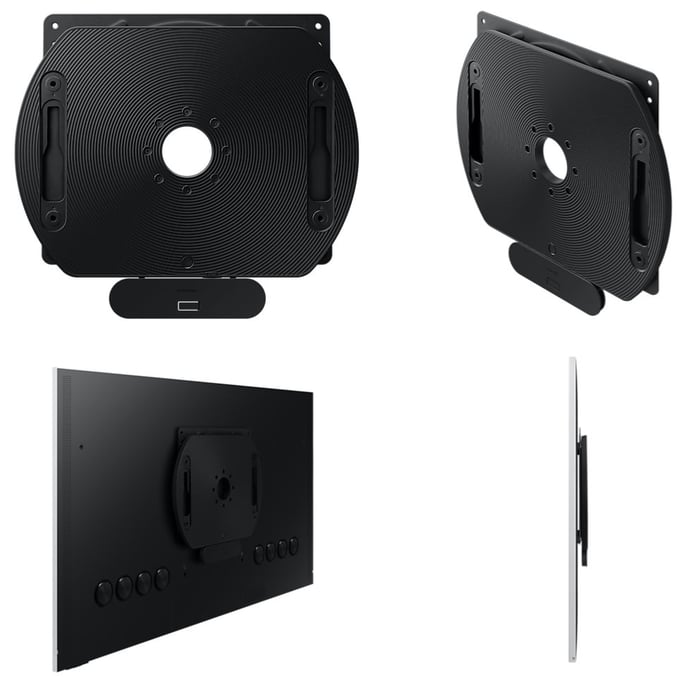 Looking to Purchase a Samsung Frame TV?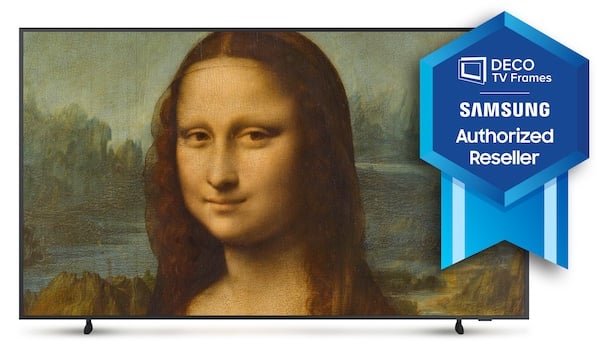 Shop small with small businesses and get the best deals on Samsung Frame TVs. Not sure if we're the best deal? Compare us to the prices on Amazon and get the best deal.
See Our Best Prices on Samsung The Frame 2021
Premium Frame Options For Samsung The Frame
Did you know we offer over 50 styles of frames for Samsung The Frame? Made and ready to ship today? See our frame options at http://DecoTVFrames.com