Checkout what's new with the 2022 Frame TV by Samsung
Unboxing Samsung The Frame 2022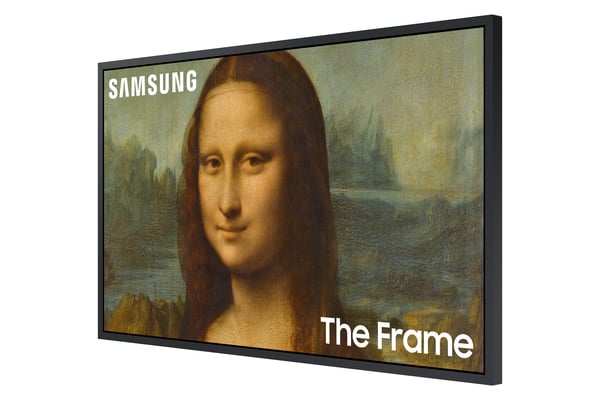 Chances are, you've probably heard about the new matte display anti-glare screen for the 6th generation of Samsung's Frame TV ... but have you seen it in person? Come take a look with us at the new display. It's simply incredible!
Here's an overview of what's in the box and how the new year is different from previous years.
Subscribe to our YouTube channel or our Instagram @decotvframes for all the latest tips & tricks on Samsung The Frame TVs.
What's New for Samsung Frame TV 2022?
The main new feature for 2022 is the new Matte Display making the TV truly believable as art. See it for yourself in the above video.
The wall mount on the back is the same for 2022 as for 2021. See full install video on our YouTube Channel
NEW remote with no removable batteries and charges via solar or USB-C and RF Harvesting technology
NEW USB-C port on TV for connecting Samsung's new webcam
NEW Optional auto-rotating wall mount
Audio has been upgrade to True Dolby Atmos 40W sound
Art Store Trial has been increased from 1 Month to 2 Month FREE Trial
Tutorials on Samsung The Frame

We regularly publish new videos about Samsung The Frame TVs to answer many FAQs to help you get the most of your TV. Be sure to subscribe to our channel to learn more.
Full Samsung Frame Overview Video
The following promotional video is produced by Samsung
Samsung Frame 2022 Remote Features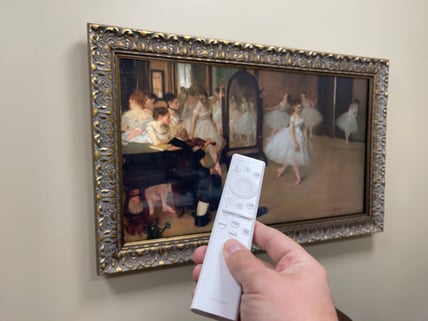 The 2022 remote is the same shape as the 2021 remote and while it may seem that the color is all they changed with a switch to White (2022) from Black (2021)... that's not all that's new!
While yes the 2022 Remote still has a solar panel and USB-C, this newest version of the remote now has a special RF Harvesting technology for charging the remote.
What is RF Harvesting????
This is a new technology that uses a WiFi router's radio waves to collect energy from the signals in the air!!! Crazy huh? We thought so as well! 🤯 This technology is only applicable for low power electronic devices which in the case of a remote is perfect since they sit idle most of the time and can very slowly collect power from over the radio waves.
So if you have the 2021 remote and found that the solar panels on the back weren't sufficient, you should really like this new remote... as long as you have WiFi in your room which lets face it, we all do! A very nice new innovation by Samsung!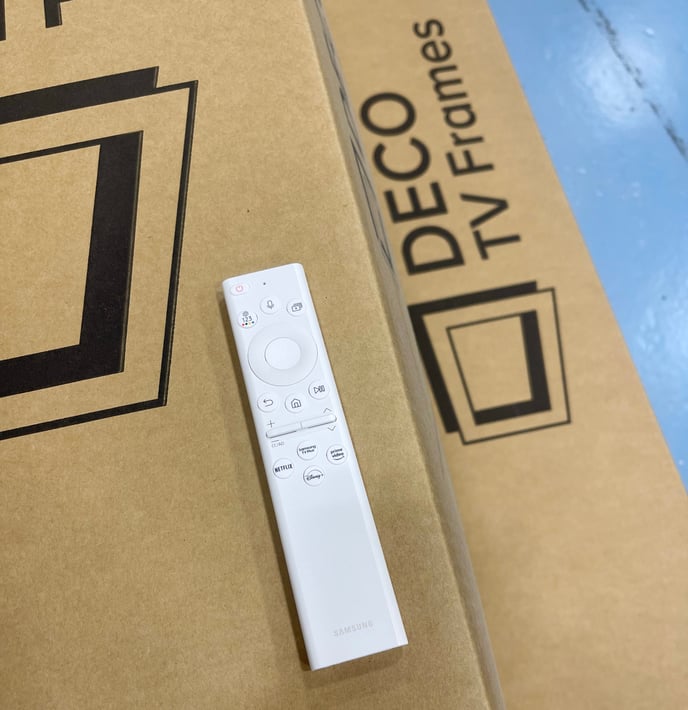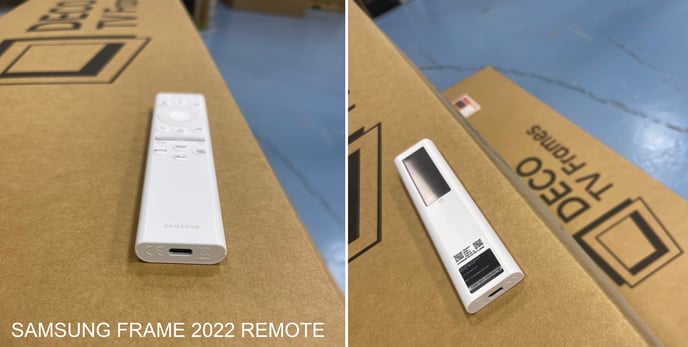 Samsung The Frame 2022 No Gap Wall Mount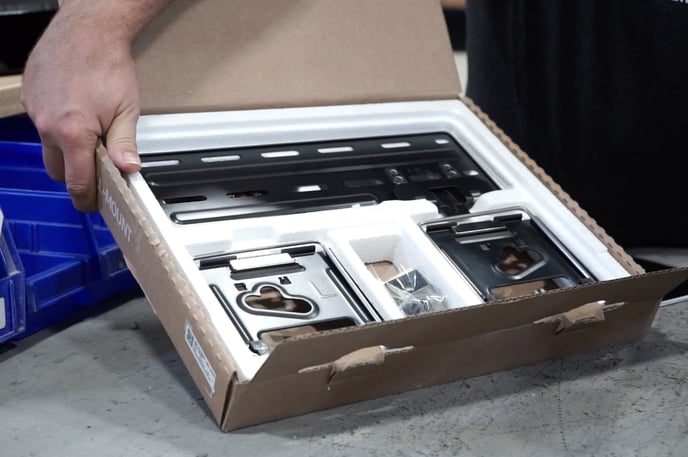 For the new model year, now that the TV is so much thinner, the wall mount has changed from a single plate and a single mount in the middle of the TV to now being a pair of plates and a pair of mounts on the left and right side of the TV. We do think the new combination of plates may prove to be a bit more challenging to install and align than the single plate approach from prior years.
NEW Motorized Rotating Samsung Frame Mount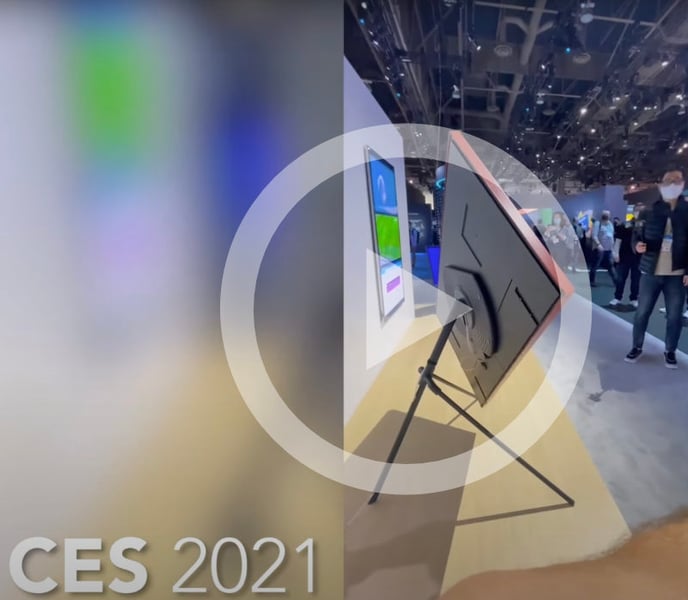 At CES 2022 in Las Vegas we were excited to discover this NEW motorized rotating wall mount to switch the TV from horizontal to portrait mode. This way you can display your artwork vertically when not watching TV or also when viewing content from your mobile device you could view the content vertically to fill the screen. We will be doing an in-depth demo on our YouTube Channel as soon as we can get our hands on one of these new mounts so be sure to subscribe to be notified of updates.
NEW Samsung Frame TV Webcam 2022
There is now a USB-C port on the back of Samsung Frame 2022 to allow users to connect a special webcam to the top of your TV for your video conferencing needs. As soon as we can get one of these, we'll do a hands on demo on our YouTube Channel so be sure to subscribe.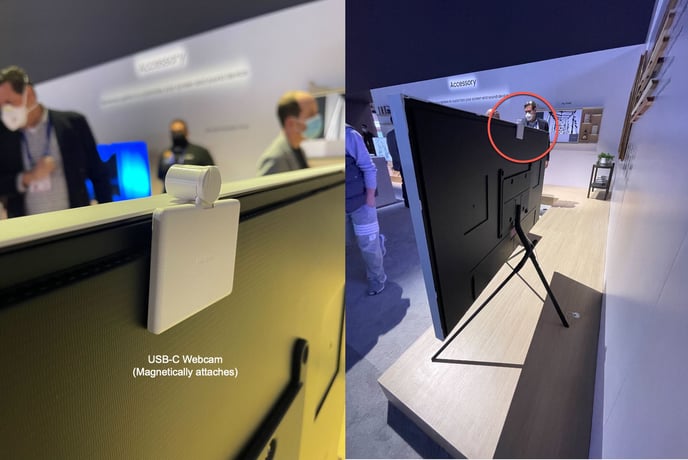 Samsung The Frame TV 2022 User Manual

All of the Samsung Frame user manuals can be found here on Samsung's Support Site. But if you're looking for the 2022 Frame TV Manual here it is!
Looking to Purchase a Samsung Frame TV?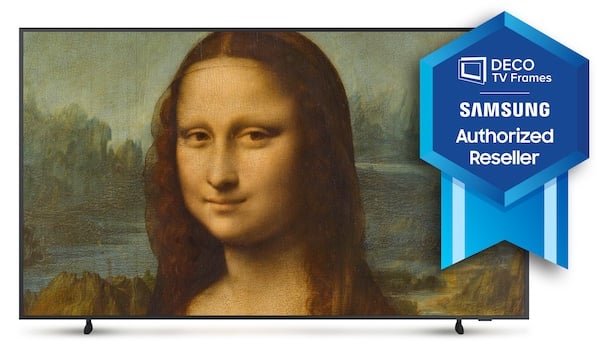 Shop small with small businesses and get the best deals on Samsung Frame TVs. Not sure if we're the best deal? Compare us to the prices on Amazon and get the best deal.
See Our Best Prices on Samsung The Frame 2021
Has the One Connect Box Changed?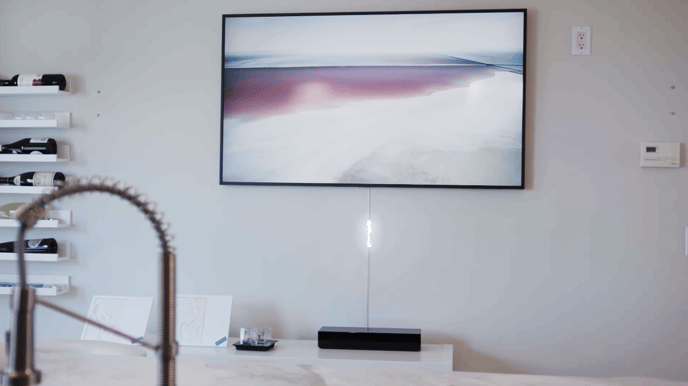 Everything about the One Connect Box on the 2022 Samsung Frame TVs remains unchanged. Dimensions, ports, and design is all the same. Learn More about the One Connect Box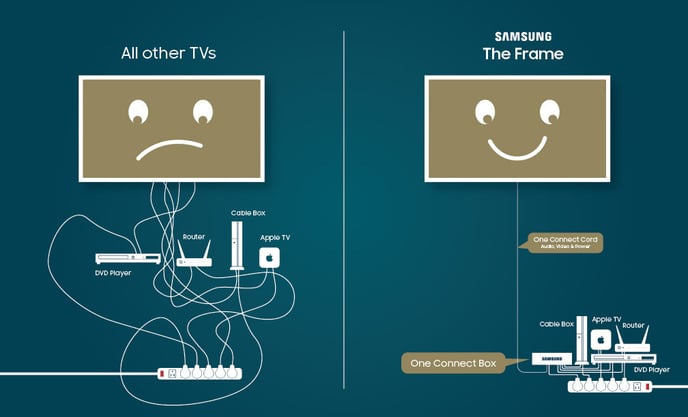 Discover Premium Samsung Frame Options
Checkout the 16 Premium Frame Options and 11 Alloy Frame Styles we offer for Samsung The Frame and see more example photos on Instagram @decotvframes