Yes and No, please read on to understand more.
Samsung Frame TV's have a variety of different sensors on them, but there is often a high degree on confusion about what the sensors actually do and what's necessary versus not at necessary so we'll break them down one by one.
Remote Sensor / IR Sensor
Question: Will my remote still work once a Deco Frame is Added to my TV?
Answer: Yes, the standard Samsung Remote will still work just fine because the remote communicates with the TV using a combination of both Bluetooth (does not require line of site) and Infrared (IR). We have seen in some instances though that the remote may become slightly confused at first when a frame is added and may be attempting to communicate via IR which does require lines of sight. In the unlikely event this occurs, all you need to do to get the remote into the correct mode is to reset & re-pair the remote.
NOTE: If you are using the Third Party or Universal remote that is NOT the TV's remote, those will always communicate with the TV via IR and that sensor on the TV is blocked so therefore you would need our SRS-2 accessory to function as an IR-repeater which would pass the signal from your universal remote directly into the One Connect Box.
Motion Sensor
Samsung Frame TV's on the bottom right corner of the TV do have a motion sensor for detecting motion in the room. There is a setting in Art Mode called "Sleep After". This setting is OFF by default, but if it's enabled then the TV will turn OFF after a specified period of time if no motion is detected and will awaken once motion is detected.
When adding a Deco Frame to the TV, this motion sensor would be blocked. Since this is a feature that is disable by default on the TV when it ships, it shouldn't matter to most users that this sensor is blocked. However, for those users who do wish to use this feature of the TV, we have an optional Smart Room Sensor SRS-2 module that's optionally available to support this feature of the TV.
Ambient Light Sensor
Samsung Frame TV's on the bottom right corner of the TV have an ambient light sensor for detecting changes in the room's lighting. There is a setting called Night Mode that uses this ambient light sensor to detect a major shift in light in the room from light to dark so that at night time if there's no light in the room when in Art Mode, the TV will go dark.
If when you place a Deco Frame on the TV you notice the art goes dark after about a minute, this is because Night Mode is enabled. Simply disable Night Mode OR you can add our optional Smart Room Sensor, SRS-2 to support this ambient light sensor.
NOTE: The ambient light sensor can also be used to make a small level of adjustment to the brightness of the art based on your room's lighting conditions. Due to a firmware limitation with Samsung TV's, it is not currently possible for our Smart Room Sensor to tell the art to brighten/dim based on the room's lighting. We are in communication with Samsung to try to have them support this command, but at this time it's not something Samsung supports.
Smart Room Sensor (SRS-2)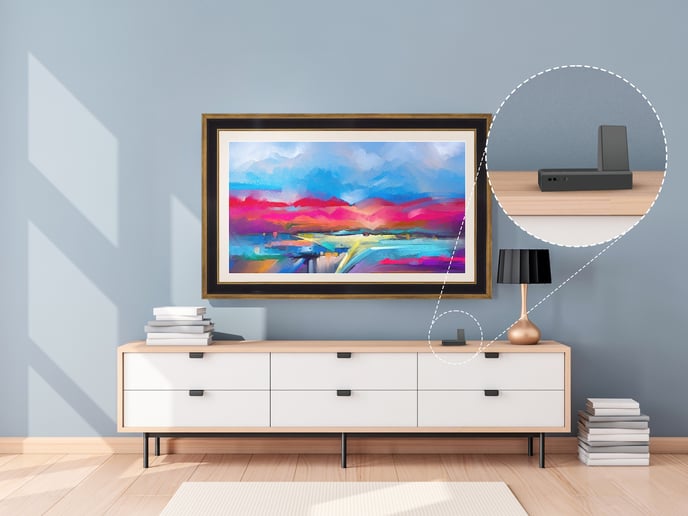 The SRS-2 is a smart device that is equipped with a motion sensor, ambient light sensor and an IR repeater. This device connects directly to the One Connect Box on a Samsung Frame TV to duplicate the sensors positioned on the bottom of the TV. Click Here to Learn More