How to handle shipping damages of Samsung TVs purchased through Deco TV Frames and Frame My TV

While TV shipping damages are rare, they do occur on occasion. There are a few ways to handle shipping damages.
Refuse the Shipment
This is the easiest and fastest way to resolve damages associated with a TV being received with clear signs of damage. Just do NOT accept the shipment and it will be returned to the shipper so a replacement can be issued without any headaches associated with a claims process.
Accept Shipment & Notate as Damaged
If you accept a shipment with obvious signs of potential damage, it's always a good idea to clearly state that the items received have signs of damage. This considerably improves our chances for a favorable resolution with the shipping company.
If when signing for the shipment the recipient fails to indicate there was damage, then the shipping company will make it very difficult if not practically impossible for a claim to be filed.
Shipments with Concealed Damages
If a shipment has damages to the TV inside the box and it was not noted at the time of delivery, in order for us to file a claim with Samsung for a replacement TV to be sent out, we will need the following photographs of your shipment and TV. From there, in approximately 1-2 weeks Samsung will render a decision about return authorization and a replacement TV.
We apologize for this added step, but greatly appreciate your patience as we go through the proper channels to resolve the issue. The only other approach is to attempt a claim with the shipping carrier and that process has a high rate of declines and takes 90-120 days, so we feel this is by far the better route for servicing our clients.
Photos Needed:
Serial tag on unit (number must be readable)
Serial tag on box (number must be readable)
Full front view of the shipping box
Full back view of the shipping box
Full left view of the shipping box
Full right view of the shipping box
Clear photo of damaged product, including surrounding area
Please send the above photos to info@framemtyv.com and include your order number in the subject line.
Looking to Purchase a Samsung Frame TV?
S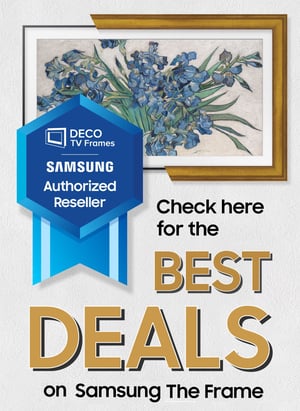 hop small with small businesses and get the best deals on Samsung Frame TVs. Not sure if we're the best deal? Compare us to the prices on Amazon and get the best deal.
See Our Prices on Samsung The Frame