In May 2021 there was a transition in the moulding suppliers of the Tuscan styles.
To improve the material availability, stability and consistency of the finish quality for the Tuscan moulding styles, in May of 2021, Deco TV Frames transitioned to a new moulding supplier for the Tuscan styles.
Transitioned Styles:
Tuscan Gold, Tuscan Antique Gold, and Tuscan Silver
What's different?
A great deal of effort was taken to try to match the existing Tuscan moulding, but they may vary slightly from some old samples that may be out in circulation. Below is an example showing a full frame of the new version of the Tuscan Gold compared to a corner sample made from the legacy version.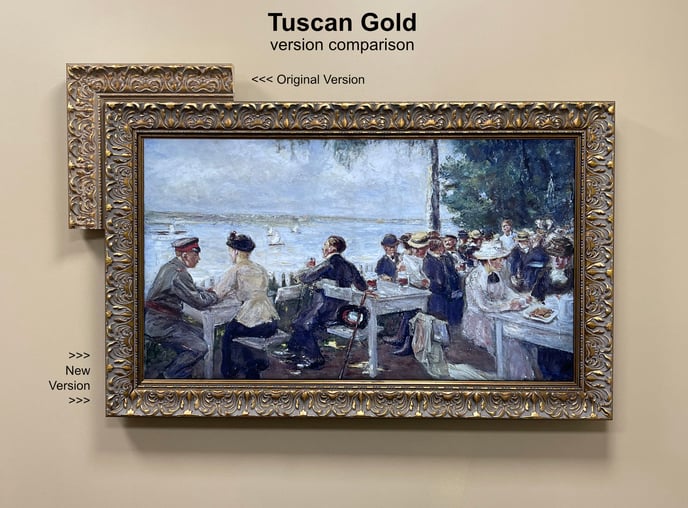 What if you prefer the original moulding instead?
We understand that some decors may be better suited to the legacy version from the prior supplier. We will attempt to maintain a small inventory of moulding to be able to make legacy Tuscan frames on demand, but please understand these frames would be made-to-order and make take up to 1 week to make. Also, a large part of the reason for changing suppliers was the prior supplier often did not have stock of the moulding to meet our needs so the material may be unavailable. Please contact 978-396-9600 if you need to make an exchange.
Identifying Legacy Frames
The older legacy Tuscan moulding was converted into finished frames in early May 2021. Legacy frames during that time will have a Red checkmark stamp on the end of the box, and the inspection date on the back of the frame will be early May 2021.