On bold pronounced profiles, the patterns of the moulding will join differently than with linear profiles.
Frames with Bold Patterns
On some frame profiles, such as the Ornate Gold and on the Tuscan profiles, there is a bold pattern to the profile where it can be impossible to ensure all 4 corners of a frame perfectly line up along the length of the moulding.
Examples of Linear vs. Non-Linear Profiles
Below in the foreground is the Antique Gold frame style which has a linear profile where there is no repeat to the pattern.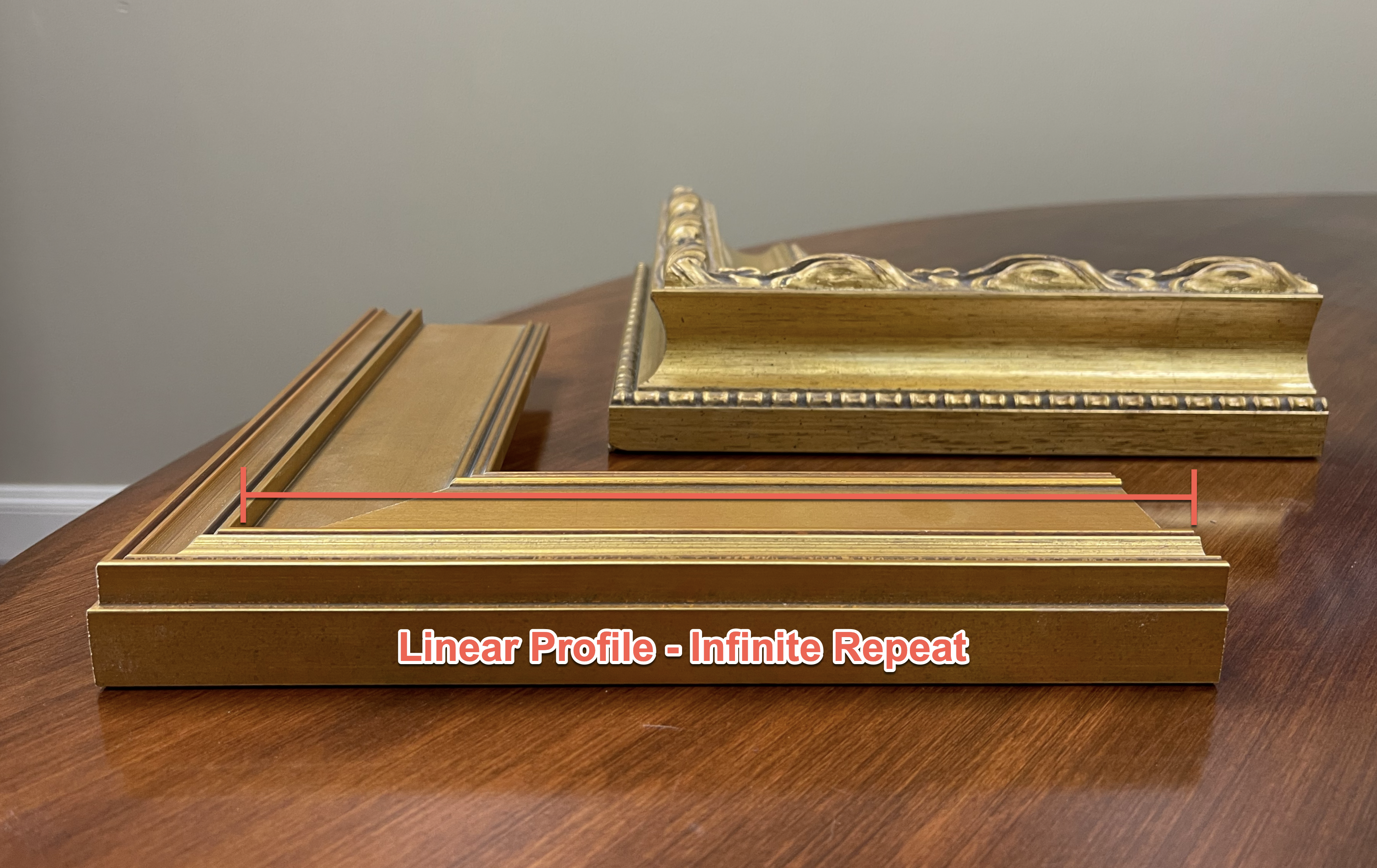 Below is the Ornate Gold Profile which is non-linear. Since there is a 3" wide bold pattern to the moulding the only way to ensure the raised and low points of the moulding perfectly aligns in all four corners is if you are always making frames in multiples of 3" increments.
With making frames for TV's, the size of the frame is dictated by the size of the TV which is never going to have both a height and a width which are an exact multiple of 3".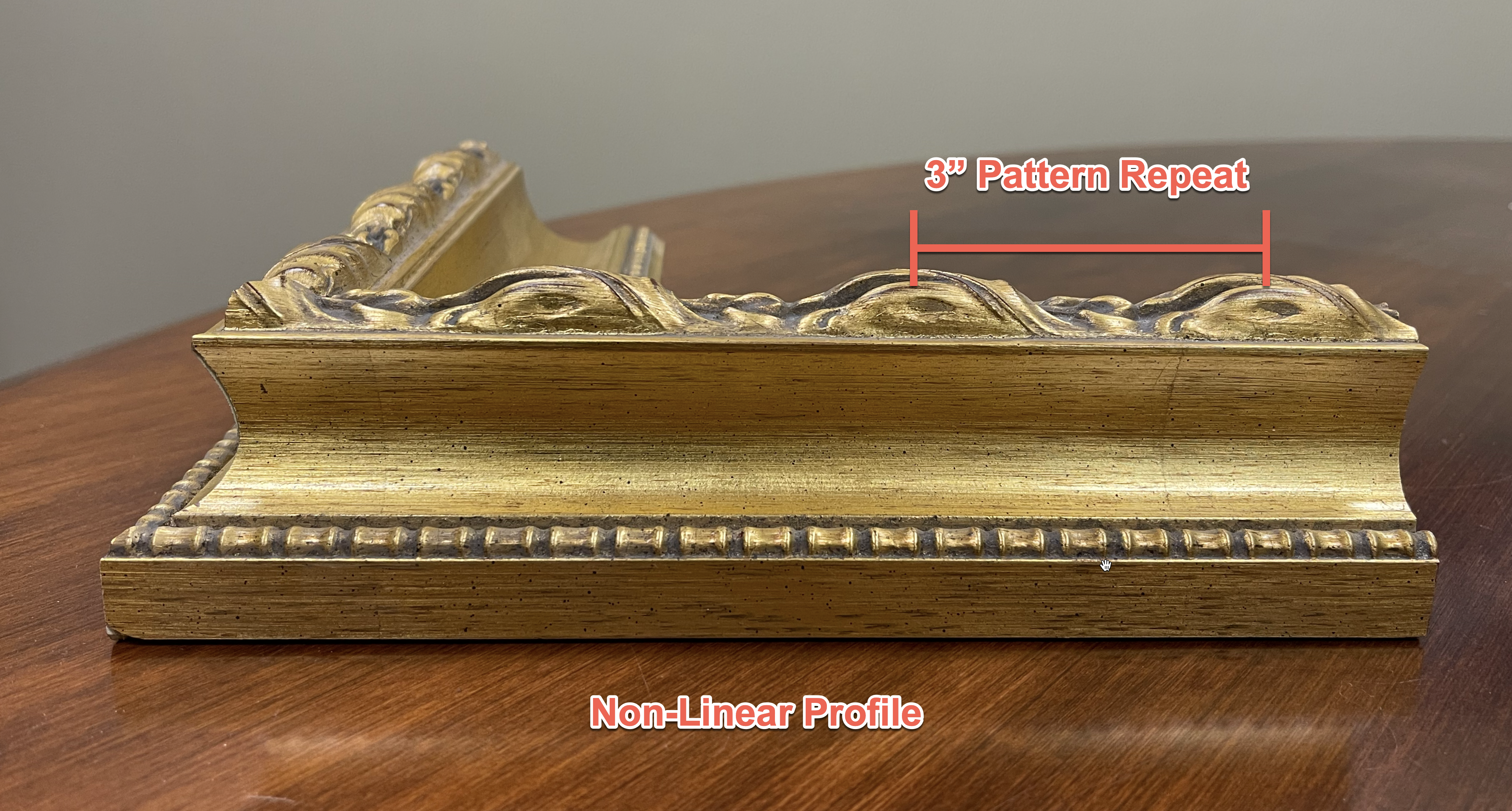 In an effort to minimize this visibility so there is not bare wood exposed on the raised edges, we touch up and paint the ends of the frame pieces so any areas where the profile is higher than the opposite side of the mitred corner it will be much less noticeable from a normal viewing distance.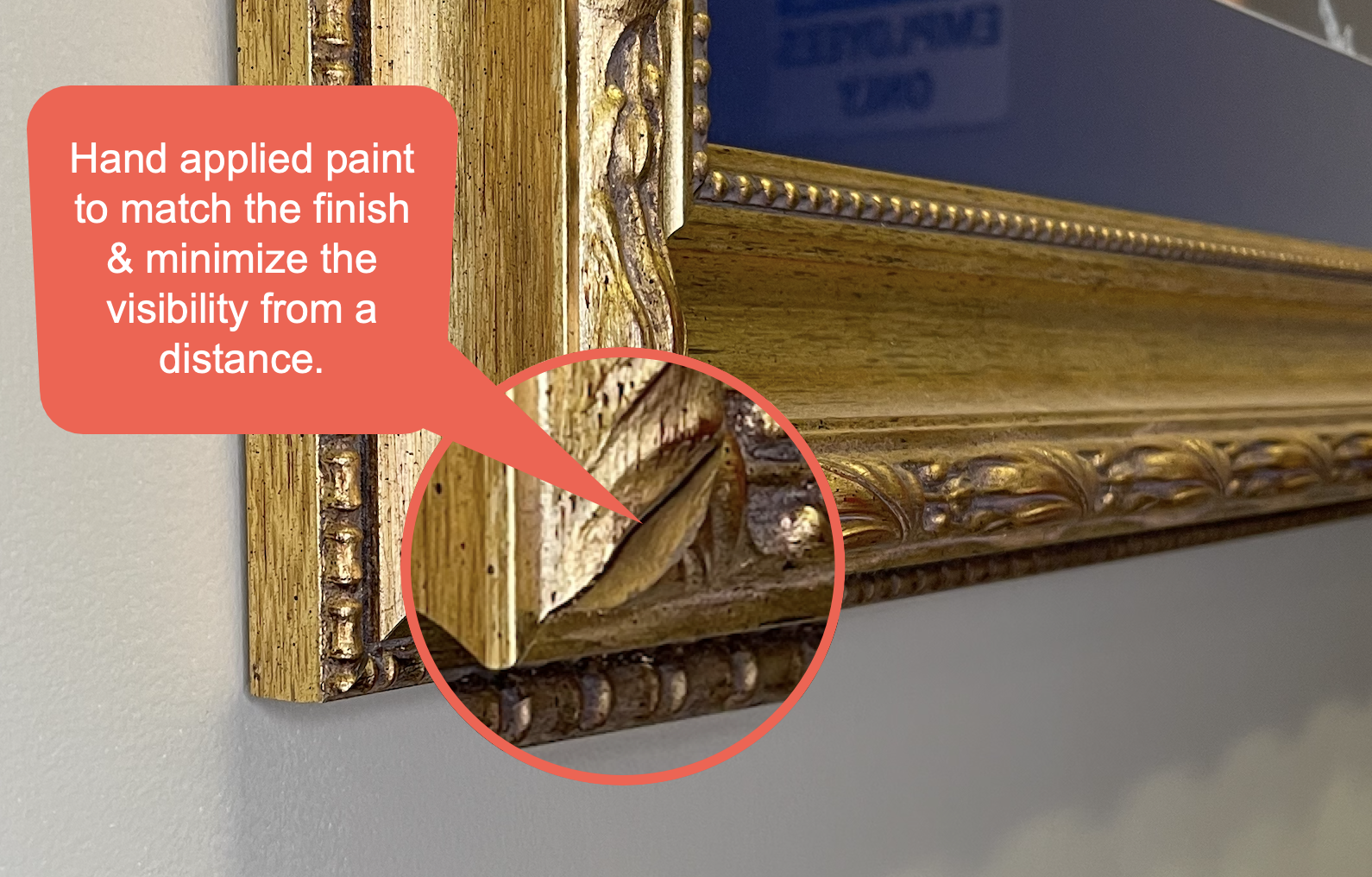 Only Alternative Solutions
The most common way to avoid this scenario is to make your frames an exact multiple of the pattern repeat or select a different frame style with a linear pattern where there are not raised edges.
Simplest Solution
Rather than inspecting the frame extremely up close, simply stand back a normal TV viewing distance the way one would normally view art. If you still find that the frame is not to your liking, just reach out to our customer service to exchange for a different frame style OR for a refund.
The End Result
While one option is to switch to a different frame style, most clients find that when standing back just far enough to be able to enjoy the overall beauty of the frame or more importantly to a normal TV viewing distance, what may be considered a topic of concern when initially assembling the frames quickly becomes not even noticeable.
To exchange your frame for a different style at no charge, please contact our customer service team and we'll be happy to swap out your frame for a different style. We cannot offer exchanges for the frame style as we guarantee every frame will have variation at the corners due to the constraints introduced by the TV size described above.