There are some important things to be aware of when receiving your order, especially when shipped via LTL Freight.
How will my order ship?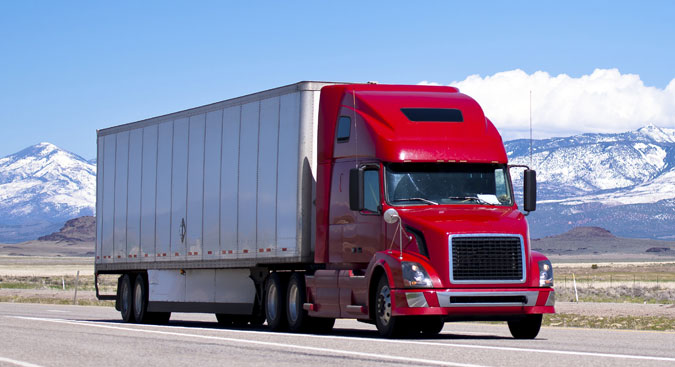 We ship using a variety of shipping methods based on many variables from size, product type, to location. The majority of our shipments ship via LTL (Less-Than-Truckload) Freight because they are often on a pallet and too large to be handled by a typical carrier such as UPS or FedEx.
See end of this article for applicable shipping methods based on your product type.
What will it look like when it arrives?
These are the most common packaging methods we use for LTL freight shipments. While the shipment might look large and difficult to handle at first, if you just cut the black plastic straps, you'll easily be able to break the shipment down into smaller more easily manageable pieces.
Custom Products
Motorized TV Art Covers, TV Mirrors, TV Mirror Glass - Design & Build Mine

Pre-Made Deco TV Frames
For Samsung "The Frame" Televisions - Shop Deco TV Frames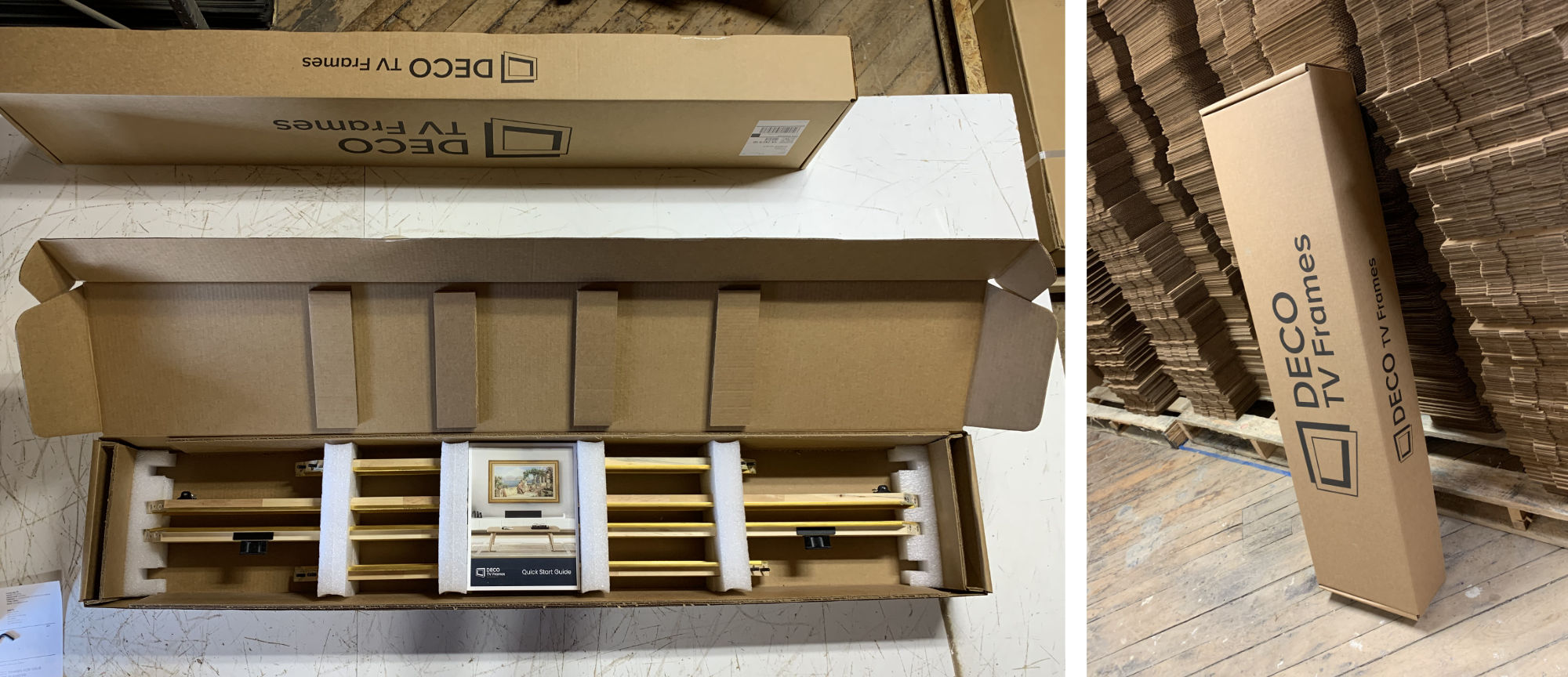 What if my shipment is damaged?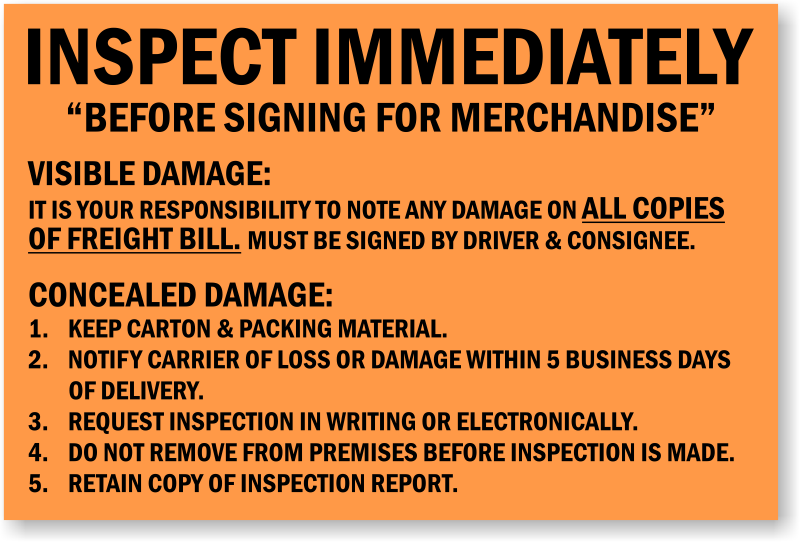 While shipping damages on LTL freight shipments average about 2-3% across the entire freight industry, we have a very low damage rate of roughly 0.7%. With that said, it still happens on rare occasion. If you see any signs of potential damage at the time of delivery either reject the shipment entirely if it appears destroyed OR be sure to at a minimum indicate that there were visible signs of potential damage when you sign for the shipment so we can go through the necessary claims process on our end.
Not to worry... we stand behind everything we ship and in the unlikely event of a damage we will rush remake a new shipment too you as fast as we can.
Do I need to be home? Will the shipping company call ahead?
For shipments going to residential addresses, the freight carrier's dispatch team will call you to schedule delivery when the shipment arrives to the local sort terminal in your region. It's VERY important to call the carrier back right away if you miss their call, because after a few days the carrier can start charging daily storage fees or even worse they could return the shipment to us if they were unable to reach you. In such cases, any additional shipping costs would be passed onto the receiver.
For shipments to commercial addresses, the carrier will NOT call ahead prior to making the delivery attempt. Please let us know if you need special arrangements made.
Tracking Your Shipment

All shipments are made and shipped from Haverhill, MA (40 min north of Boston). Within 1 business day after your shipment leaves our facility, you will receive an automated email with the tracking details from your order and the name of the carrier the order was shipped with. If you don't receive this information, just let us know.
Delivery Windows & Appointments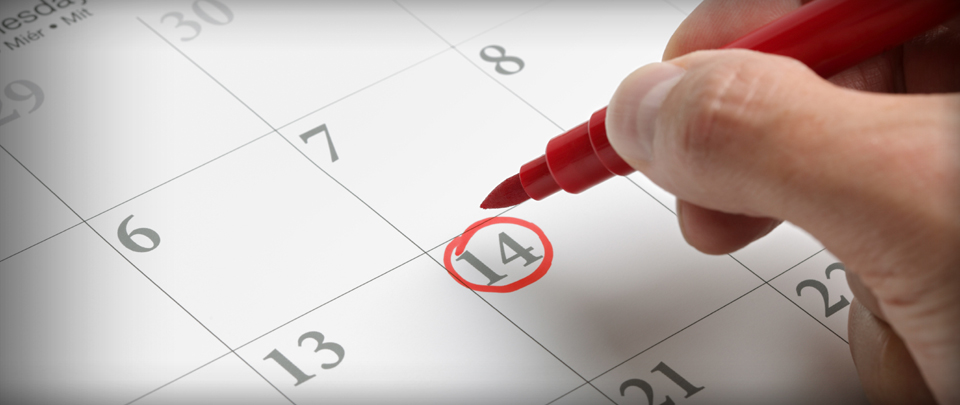 By default, LTL freight carriers will not make a specific delivery appointment beyond indicating the specific day the delivery will be attempted. We certainly understand that you may not be able to be available all day to wait for the delivery, so what we have found to be the best way is to just give the dispatcher at the shipping carrier call first thing the morning of the scheduled delivery and they may be able to look at that drivers route for the day to give you a relatively decent estimate of what portion of the day they anticipate the driver being in your area. This is no guarantee, but we've seen this approach commonly used.
If you need a 2 hr delivery window, let us know and we can ask the carrier if it's available for your area. Please be advised that most carriers will charge $50-$100 extra for a 2 hr delivery window.
White Glove Delivery
Additional Fee Applies - Contact Us for Quote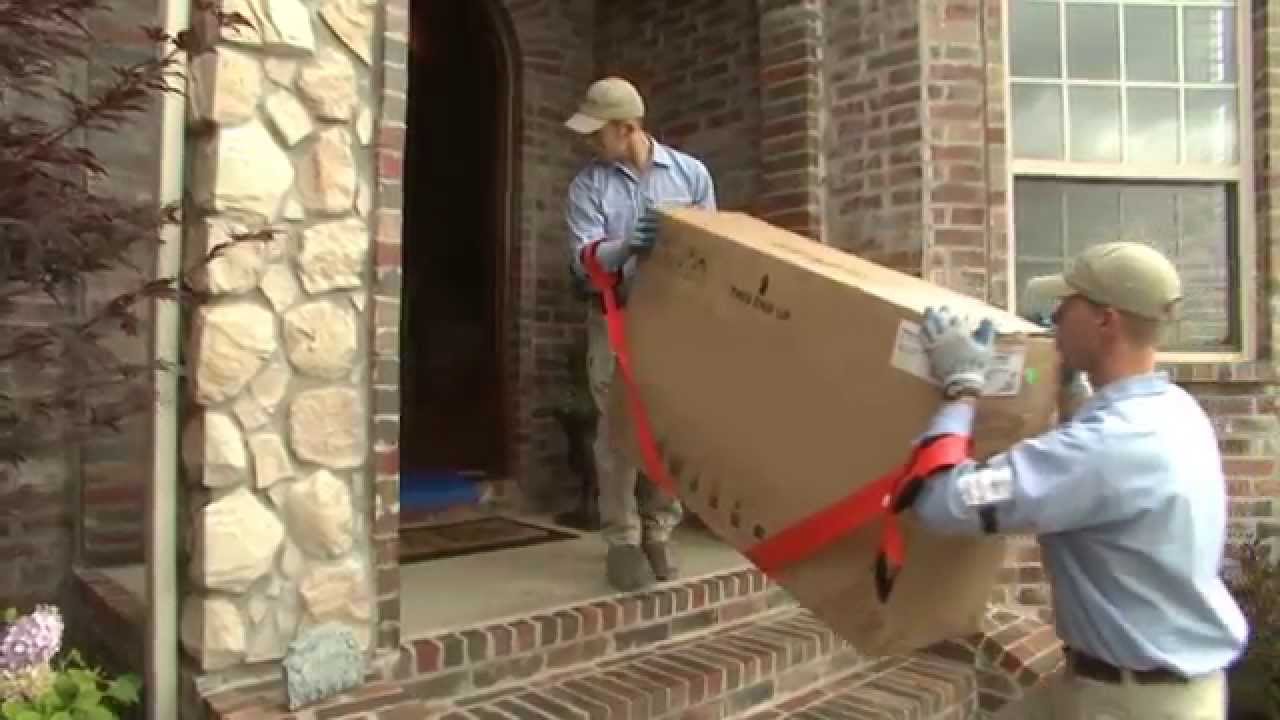 In some areas, white glove delivery services to bring the shipment into your home may be available. The additional cost for this service varies, but typically will add an additional $300-$600 to your shipping costs. We find that it's generally an unnecessary added expense, but it is available if absolutely essential. White Glove Delivery should be requested BEFORE your order ships to keep the costs to a minimum. Please contact us to request more information if you feel this option is necessary.
This service is most commonly used for luxury high rises and restricted access homes in New York City.
Avoiding Additional Fees
All fees vary by carrier. The rates listed below are purely a ballpark estimate. Additional shipping fees will be the responsibility of the receiver if requested by the receiver and may be billed directly to you by the carrier or paid through FMTV
Address Changes
Please pay close attention to your shipping address PRIOR to when your order ships. With palleted LTL Freight shipments, the cost to change the destination address is a rather complex process and typically costs an added $100 - $140 reconsignment fee + the difference in transit price (it's much like an airline change fee). This will also typically delay the shipment by 1 or more days. Address changes must be authorized directly between FMTV and the shipper.
Inside Delivery
By default, all frieght deliveries are delivered to the curbside. Freight deliveries are not delivered indoors unless explicitly requested. Such service is generally considered to be a White Glove Delivery (see above section on this topic). In all cases any added services beyond curbside delivery may be subject to additional fees imposed by the carrier and would be the recipients responsibility.
Lift Gate Delivery
If your pallet is large and you need a lift gate to remove it from the truck, please request this service in advance of the shipment departing FMTV. Liftgate service is $40 additional if added at the time the shipment leaves our dock.
Applicable Shipping Method for My Purchase
TV Art Covers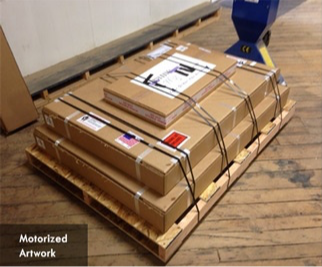 Due to the high value of TV Art Covers and delicate nature, they are ALWAYS shipped via LTL Freight on a pallet as shown here. Please see above information on LTL freight shipments and what to expect when receiving them. While the shipping rates for LTL freight are higher than UPS or FedEx small packages, it's worth it given the much lower the probability of damage in transit.
TV Mirrors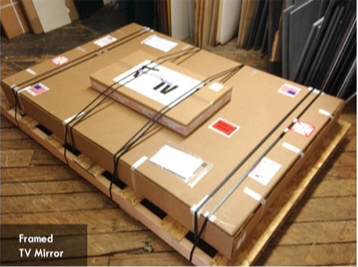 Typically, any framed TV Mirror made for a TV larger than 43" diagonal screen size would ship via LTL Freight on a pallet as shown here. Technically, some frames around this size can ship via UPS small package, but in our experience the damage rate of TV mirrors so close to the UPS max sizing thresholds carry a very high damage rate and it's just not worth risking you receiving damaged product. It's always safer to ship via LTL freight in those cases.
Framed TV mirrors for TVs under 43" diagonal screen size can usually ship via UPS small package, but you will be given the option during checkout if you would like to use LTL freight instead. If you believe your frame qualifies for UPS small package, but you do not see a rate for this during checkout, please contact us for a rate quote.
Learn more about Framed TV Mirrors
TV Frames
A TV Frame Only for TV's up to a 50" diagonal screen size can typically ship via UPS small package. For all screen sizes above this, the shipment would travel via LTL freight on a pallet much like for a Framed TV Mirror as shown above.
For TV Frames on TV's under a 50" diagonal screen size, you will be given the option during checkout if you would like to use LTL freight instead. If you believe your frame qualifies for UPS small package, but you do not see a rate for this during checkout, please contact us for a rate quote.
TV Mirror Glass Only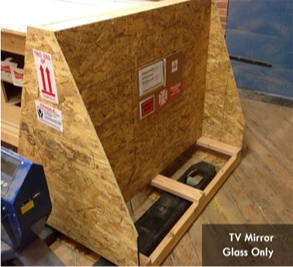 TV Mirror glass shipments most often ship via LTL freight and are packaged in an A frame shaped wooden pallet as shown here.
While it's not very common and typically not advised for risk of damage reasons, there are some instances where a piece of TV Mirror Glass can be shipped via UPS small package for a lower shipping rate, but please bear in mind that the probability of damage in shipping with UPS small package is far higher than via LTL freight.
If either the height or width of the glass exceeds 45" OR if the combined surface area of your piece of TV mirror glass exceeds 8 square feet, it will likely exceed the maximum thresholds for UPS small package and must be shipped via LTL freight. If you have questions, please contact us to discuss your shipping options further.
Pre-Made Deco TV Frames
For Samsung "The Frame" Televisions - Shop Deco TV Frames
This product line is the easiest to ship and receive. Deco TV Frames ship broken down in 4 pieces so they can fit into a compact box for shipment via UPS and do not require LTL Freight Shipping like our custom product lines.