Yes, we ship to Canada and all other locations worldwide. Learn how we handle international shipping and what to expect.

Shipping To Canada & Mexico

The most common destination beyond the U.S. we ship to is our friends to the north. Our website will quote shipping rates to all points in Canada for all package types (samples, tv art covers, tv mirrors, etc.) during checkout. For orders of items greater than $100 USD, there will be a small amount of coordination necessary with you so that we know who will be clearing your international shipment through customs.
Duties, VAT & Customs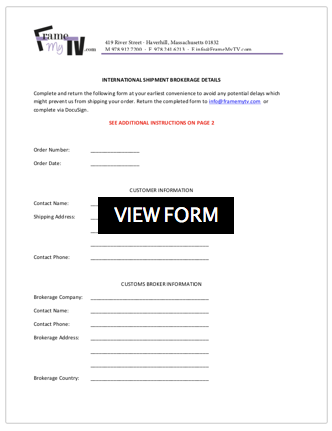 The above customs form DOES NOT need to be submitted for the Deco Frames product line. Those are all handled via UPS and UPS Customs Division will contact you if any Duties or Taxes are applicable for your area.
Please note that the shipping rates quoted during checkout are only for transit costs and DO NOT include any duties, taxes or customs clearance costs which may be applicable to your shipment.
Typically, our clients abroad already have a customs broker they prefer to work with when ordering products from the U.S. so we'll just need you to provide the contact info of your customs broker and from there we'll send them all the necessary documentation they'll need to clear your shipment and provide you with a quote on any applicable customs fees. If you do not have a preferred broker, please see page 2 of the form for additional info.
You'll just need to complete and return this form to us prior to when your order will be ready to ship so there are no delays in fulfilling your order.
All Other Countries
Samples Orders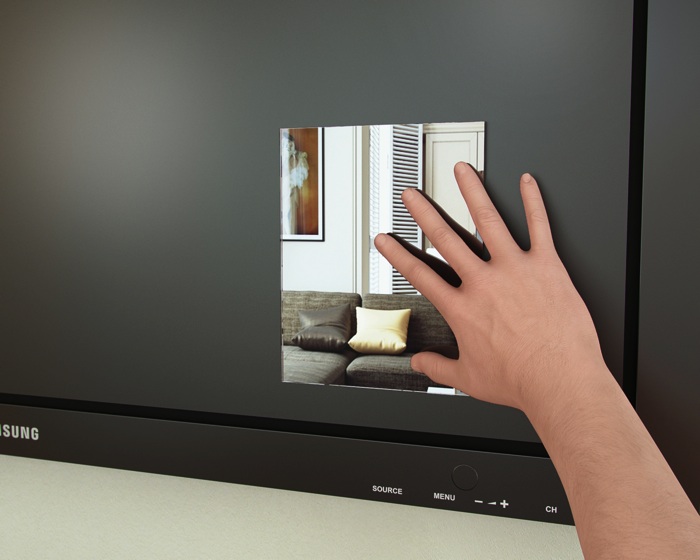 It's very common for clients to order samples prior to placing their full custom frame, TV art cover, or TV mirror. Shipping rates for samples will be automatically quoted during checkout for all destinations worldwide and can easily be purchased at FrameMyTV.com without further coordination with us.
Full Frame and/or TV Mirror Glass Orders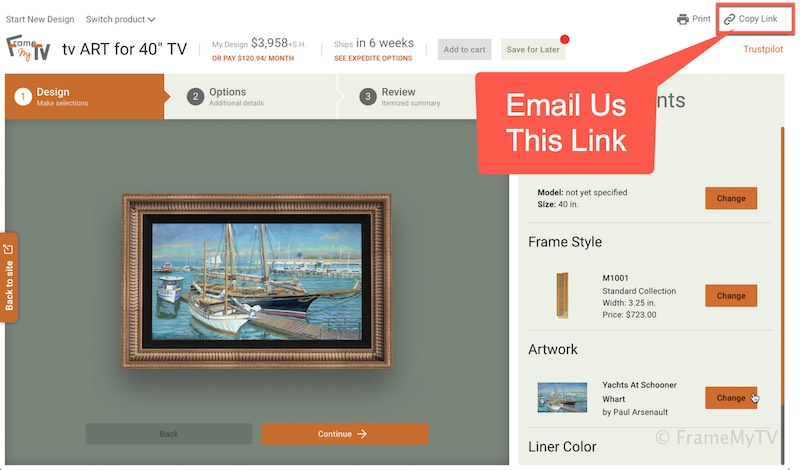 Given the highly custom nature of international shipping of palletized shipments for items like full frames, we would work with our global network of logistics partners on your behalf to obtain shipping rate quotes manually for your full frame order. To provide you with a custom international shipping rate quote, you'll just need to email us with a link to your saved design and the address of where it will be shipping to and within 48 hours we'll have a shipping rate quote for you.

Since all shipments are quite large and must be palletized, please be advise that shipping rates can often be rather substantial. Typical international shipping quotes are $700-$1,200 depending on size and location. This would not include any potentially applicable customs clearance costs (see section above on this topic)
Once we provide you with the shipping rate, when you are ready to proceed with your order, our customer service team will prepare a custom draft order for you to easily complete your purchase online with the applicable custom shipping rate.

Pre-Made Deco TV Frames
For Samsung "The Frame" Televisions - Shop Deco TV Frames
This product line is the easiest to ship and receive. Deco TV Frames ship broken down in 4 pieces so they can fit into a compact box for shipment via UPS and do not require LTL Freight Shipping like our custom product lines.