Plan ahead and avoid the rush fees if you need your frame in time for a holiday gathering.

Deadlines
The following times allow for normal production time plus 1 week transit time. Please note that transit times during the holidays can often be longer than normal and transit times cannot be guaranteed.
Production Time
Thanksgiving Ordering Deadline
Christmas Ordering Deadline

from $3,499

6 weeks
View Rush Options

Oct 31, 2019

4 weeks

Oct 19, 2019

Nov 10, 2019

from $850

4 weeks

Oct 19, 2019

Nov 10, 2019

from $499

NEW product line exclusively for Samsung The Frame

In-Stock
Nov 8, 2019
Dec 17, 2019

from $65/sq ft

3-5 days
Nov 9, 2019
Dec 10, 2019
Design & Price Yours

For custom made-to-order product such as TV Art Covers, TV Mirrors, custom TV Frames, and cut-to-size TV Mirror Glass, use our interactive Quote Builder Tool to choose from nearly 400 frame styles and thousands of piece of art or TV mirrors to conceal your television. All products in these collection are custom made for any model television.

Our New line of Deco TV Frames are made exclusively for Samsung The Frame televisions. They are available in a limited set of 16 styles for Samsung Frame TV's and snap together and install in under 60 seconds.
General Pricing Information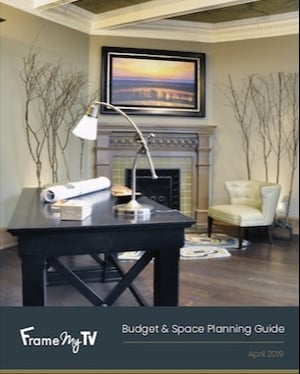 With our Budgeting & Space Planning Guide, you can easily get general pricing on all of our custom product lines in a single document as you try to decide what size TV would be ideal for your space.
For our DecoTV Frames, here you can obtain specific pricing and see all frame styles.
Need Advice? Schedule a Consultation
With our experienced design consultants, just have a quick call to work through the details for your design. Click here to Schedule a Call