Does a TV mirror distort the TV's picture? Well not exactly, but there are some tradeoffs with TV Mirrors.

Due to Supply Chain constraints, the TV Mirrors Product Line is No Longer Available. This page is remaining active for archived purposes for existing clients. Please checkout our Deco TV Frames product line instead.
When is a TV mirror not an ideal solution?
A Framed TV mirror type of solution is not for everyone or every environment. If you have a room with a high level of ambient light or large light sources opposite your television, you may encounter unwanted reflection in the mirror even while watching television from certain angles. For the best results with TV mirrors, we generally recommend using an LED television such as a Samsung or Sony for maximum illumination. For rooms with higher levels of ambient light, you might want to consider our TV Art Covers as well.
Rooms that work very well are rooms with low lighting or where there isn't exposed lighting opposite the TV. TV mirrors are very commonly used in locations such as master bedrooms where the majority of TV viewing occurs in the evenings.
If the primary viewing times for the TV are in the evenings when the light from windows is minimal, then you probably notice very little if any impact from a TV mirror. In fact, in the evenings the mirror can add some contrast to the picture making it pop a little more.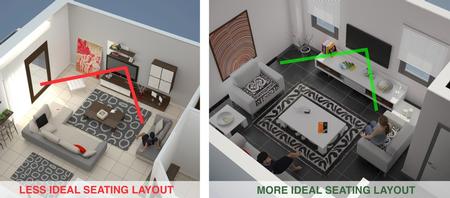 The Following photos are a clear example of the above room layout. Look closely at the photo of the TV ON compared to the photo of the TV OFF to see how if the reflection in the mirror from your viewing angle is of a window, this could result in some unwanted glare from certain angles as would be the case here when seated at the piano during the daytime. It's important to be aware of the seating locations in the room when considering a TV Mirror.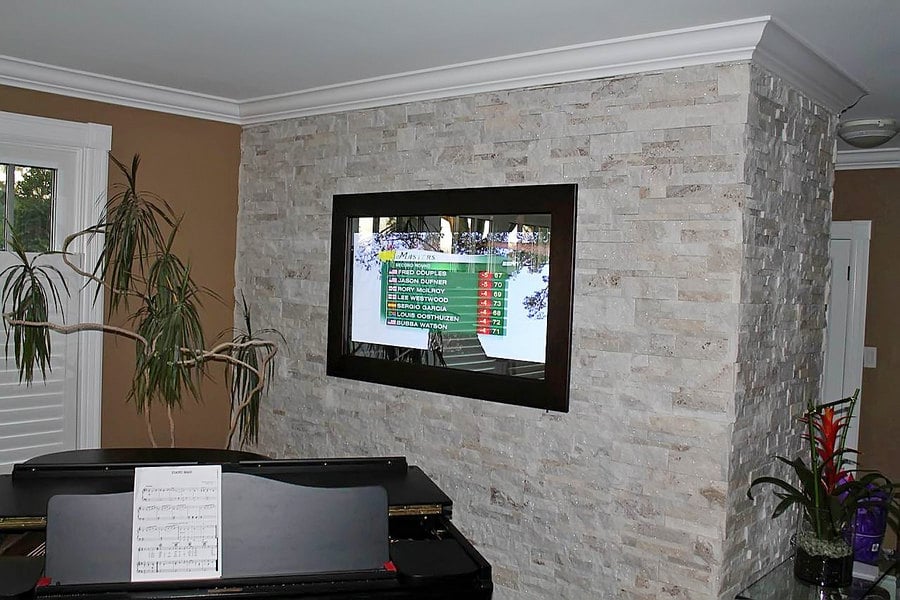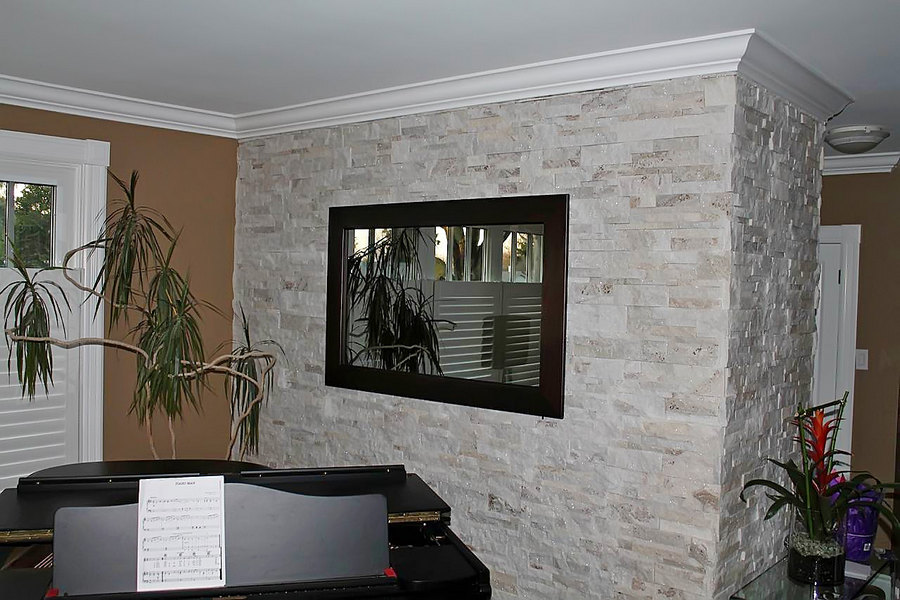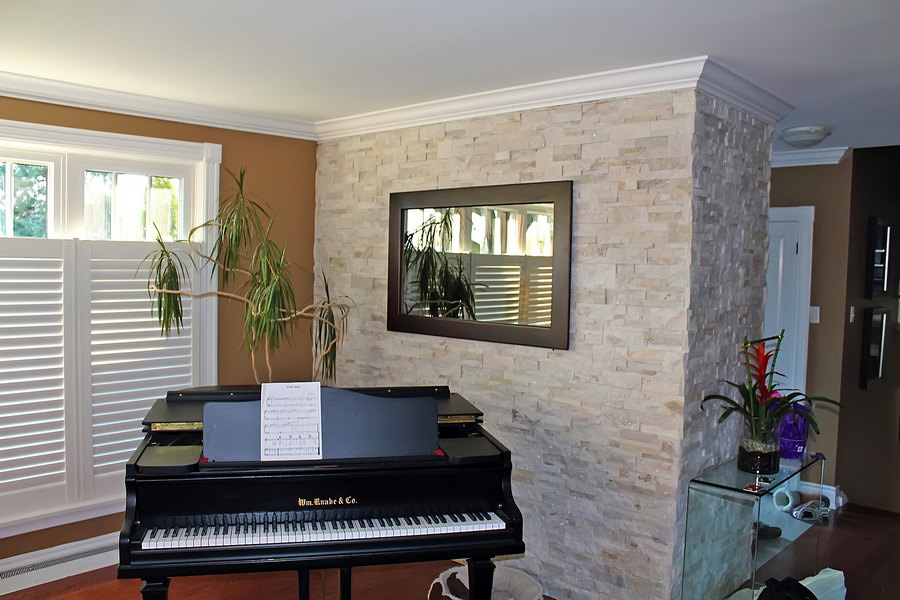 Which Mirror Type is Right for Me?
While we offer four types of TV Mirrors ... here is the simple way to decide
For a living room or bedroom sort of environment where the primary purpose is TV viewing and secondary purchase is mirror reflectivity the best type of glass is our OptiClear Ultra glass.
For a Bathroom Vanity environment where the primary purpose is mirror reflectivity for things like make-up and shaving and secondary purchase is watch the TV through a smaller portion of the mirror then our Reflections Vanity Glass is the best option.
Reviewing TV Mirror samples is a great idea to decide for yourself which you would prefer.
2 Easy Ways to Shop:
Use our Quote Builder Tool to get an instant online quote
Browse our gallery of recently shipped TV Mirrors to see example photos of actual installs submitted by our clients.
With TV Mirrors it's always a good idea to order TV Mirror samples to try the glass in your space. Samples can be just placed in front of a TV or an iPad at full brightness. Order TV Mirror Samples
The following video shows an example of how a light source such as a window opposite the TV can moderately impact the TV's picture. During evening viewing this perimeter of the window would not be visible. Please note that the glare you see in this video from the perimeter of the window would not exist if there was not a window opposite this TV. We have used this setting intentionally to show the potential impact of a window opposite the TV.
Example Video - Typical Conditions
This example shows the subtle amount of glare that may be experienced from a normal amount of light in a room bouncing off of other objects in the room.
Placing a TV Mirror by a Window - Extreme Conditions
Here is an example of how a large sliding glass window adjacent to a TV mirror can introduce the potential for unwanted glare during daytime TV viewing due to a large amount of direct light being reflected by the mirror. Be careful to properly assess the layout of your room when considering if a TV mirror is right for your space.
Rooms with windows directly opposite the TV in line of site from the primary viewing area may be subject to more extreme lighting effect and potential unwanted glare. For this spaces, you make want to consider concealing your TV with canvas artwork.

TV Mirror Samples to See for Yourself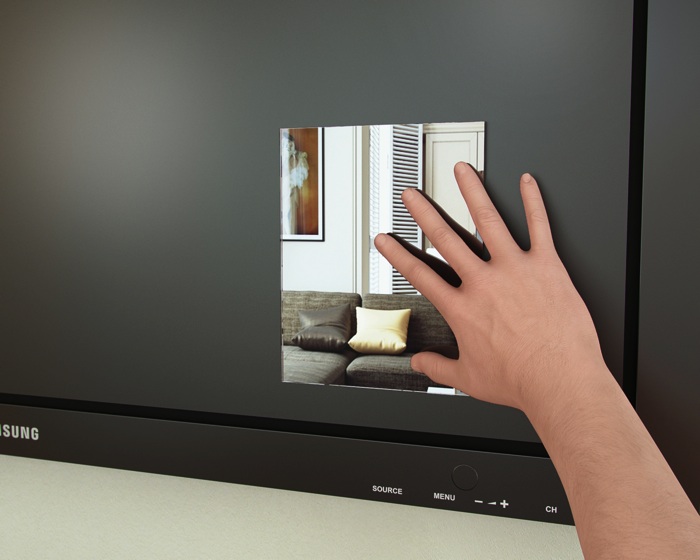 TV Mirrors can look different in various environments based on the lighting in your room and many other factors. We highly encourage ordering TV mirror samples to see for yourself so you know what to expect upon arrival.
Additional Options When a TV Mirror is Not a Fit
In some spaces where the room lighting is too great or the windows are opposite the TV Mirror, you may want to consider one of our TV Art Covers instead for the best of both worlds. This solution will give you a beautiful framed piece of canvas art when the TV is not in use, then when you want to watch TV, the painting rolls up inside the frame to reveal the TV with ZERO impact on the TV's picture.
We offer millions of pieces of art and hundreds of frames to choose from custom made for any size TV.